Jesienią zeszłego roku, na antenie stacji FOXlife zadebiutował pierwszy w historii polskiej telewizji program o projektantach mody. Uczestnicy tworzyli kreacje pod okiem wybitnych specjalistów mody. W trakcie trwania programu, na tle pozostałych uczestników niewątpliwie wyróżniał się Jarosław Juźwin – młody projektant, absolwent prestiżowej Międzynarodowej Szkoły Kostiumografii i Ubioru w Warszawie.
Daniel Matejczyk: Jesteś finalistą programu Projektanci na start, jak wspominasz przygodę na planie?
Jarosław Juźwin: Dobra zabawa, niesamowite emocje, praca pod presją czasu, sprawdzian własnych umiejętności, dobra szkoła życia. A na końcu każdego zadania zawsze pojawiał się uśmiech na twarzy.
DM: Dlaczego zdecydowałeś się na wzięcie udziału w programie Projektanci na Start?
JJ: Przede wszystkim chciałem zaprezentować szerszej publiczność mój sposób tworzenia kreacji oraz zwiększyć rozpoznawalność, popularność swojej marki.
DM: Jak oceniasz współpracę z jury i uczestnikami?
JJ: Wspaniali ludzie! Mocne osobowości! Uczestnicy – z początku spodziewałem się, że między nami będzie ostra rywalizacja na szczęście z czasem okazało się, że rewelacyjnie się dogadujemy. Na pewno chciałbym z częścią nadal utrzymywać kontakt!
DM: Z czyim zdaniem z jury liczyłeś się najbardziej?
JJ: Ze wszystkimi, każdy z nich był profesjonalistą w swojej dziedzinie.
DM: Do programu zaproszono również gości specjalnych. Czyja wizyta zapadła Ci w pamięci, która była dla Ciebie motywująca.
JJ: Bardzo miło wspominam  duet MMC , świetnie się dogadywaliśmy, klasa sama
w sobie  oraz profesjonalne podejście do tematu.
DM: Jak oceniasz siebie w trakcie emisji programu?
JJ: Przede wszystkim zawsze byłem sobą, nikogo nie udawałem. 
DM: W materiale informacyjnym do programu, wspominasz, że pochodzisz ze śląska. Dlaczego zdecydowałeś się na zmianę miejsca zamieszkania?
JJ: Przeprowadziłem się ze względu na szkołę ,chciałem pracować w branży modowej i filmowej dlatego też wybrałem kierunek  charakteryzacji.
Fashion Philosophy Fashion Week Poland 2012, fot. Mariusz Palczyński
DM: Jaka była reakcja rodziców, gdy ogłosiłeś im, że chcesz projektować?
JJ: Rodzice zawsze powtarzali, żebym był sobą i robił to co kocham aczkolwiek pierwsze moje kroki skłaniały się ku architekturze.
DM: Czym była pierwsza rzecz, którą zaprojektowałeś?
JJ: Damska marynarka na konkurs dla młodych projektantów w Kielcach, który miał miejsce jakieś 7 lat temu.
DM: Kim inspirujesz się na co dzień, kto jest dla Ciebie wzorem do naśladowania?
JJ: Inspirują mnie, "kolorowi" ludzie których często spotykam na swojej drodze oraz obrazy w mojej głowie. Podziwiam artystów takich jak Aleksander McQueen czy Gosia Baczyńska, których projekty to prawdziwe dzieła sztuki. 
DM: Kogo z polskich projektantów cenisz najbardziej?
JJ: Zdecydowanie Gosię Baczyńską! Jest jedną z najlepszych polskich projektantek. Znakiem rozpoznawczym Pani Gosi są piękne suknie stylizowane na lata 40., chociaż w ostatnich kolekcjach pokazała punkowy pazur. Uwielbiam jej projekty.
DM: Co raz częściej, gwiazdy wielkiego formatu współpracuję z projektantami. Dla kogo chciałbyś projektować ?
JJ: Bardzo chciałbym współpracować z taką gwiazdą jaką jest dla mnie Małgosia Kożuchowska. Mam nadzieję, że uda mi się trafić do grona ulubionych projektantów aktorki.
DM: W lutym na okładce magazynu InStyle pojawiła się Marcelina Zawadzka
w sukni Twojego projektu. Czujesz się wyróżniony, zaskoczony?
JJ: Oczywiście czuje się wyróżniony , o wygranej  kreacji na okładkę decydowały również osoby z zagranicznych wydawnictw InStyle, wygrana zapewniła mi miejsce w finale. Trudno było by mi ukryć jak bardzo się cieszyłem.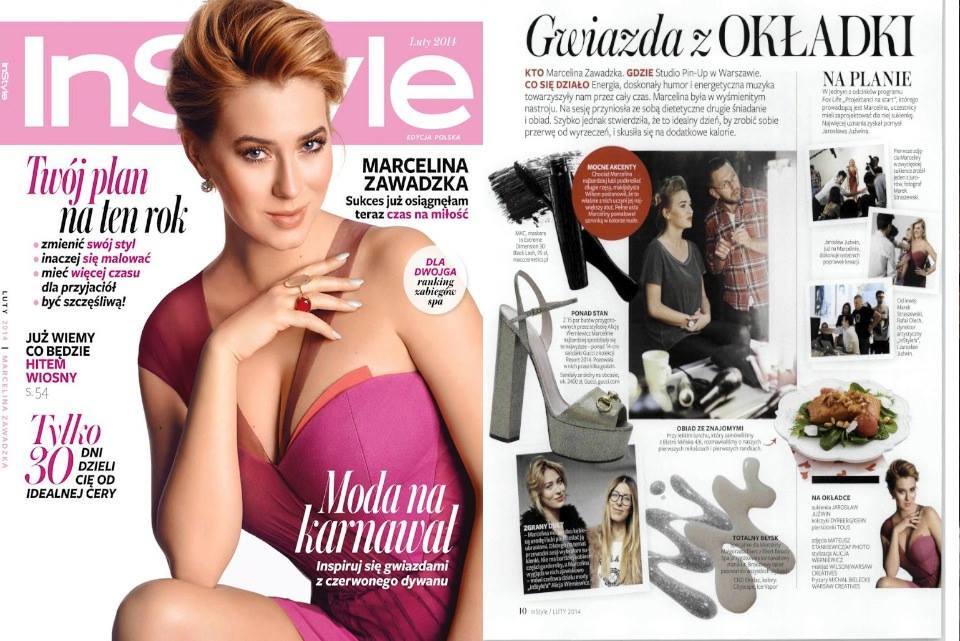 Marcelina Zawadzka w sukni projektu Jarosława Juźwina na okładce lutowego InStyle
DM: Dwukrotnie prezentowałeś swoją kolekcję na Fashion Weeku w Łodzi, Sopot Fashion Days. Gdzie najbardziej chciałbyś przedstawić swoją kolekcję?
JJ: Pewnie, jak każdy projektant, marzę o pokazie podczas Fashion Week'u
w Paryżu czy Nowym Jorku.
DM: W Twojej ostatniej kolekcji dominują kolory, graficzne wzory. Skąd inspiracja na taką a nie inną kolekcję?
JJ: Jedną z inspiracji były stare pocztówki z ruchomymi obrazkami 3D. Pewnego wieczoru z mamą, przeglądaliśmy jakieś stare zdjęcia. Między nimi zawieruszyła się właśnie taka karta z ruchomymi obrazkami. Wtedy przyszedł mi do głowy pomysł, żeby stworzyć z tych grafik całe sylwetki/ projekty. 
DM: Gdybyś miał określić swoich odbiorców, kim byliby?
JJ: Silna osobowość – otwarty umysł, bez granic wiekowych.
DM: Czy pracujesz już nad nową kolekcją?
JJ: Tak, mam już pomysł na nową kolekcją. To będzie coś czego jeszcze nie było.
Zapraszam na oficjalne strony projektanta:
www.juzwin.com oraz https://www.facebook.com/JaroslawJuzwin