English fashion and portrait photographer Rankin and make-up artist Marco Antonio have just launched a new beauty book that celebrates their collaboration and artistic experimentation for the past four years.
Rankin's photography has been published in several famous publications such as Elle, Vogue, and Rolling Stone, and still exhibited in several galleries around the world. Marco Antonio a self-taught makeup artist, has worked with celebrities including Kesha and Naomi Cambell.
Alongside 40 other published books, Rankin highlights his work with make-up artist Marco Antonio in their expressive book, Maro Antonio X Rankin. The book also includes a discussion between the artists stating their outlooks on beauty in today's remarkable culture, as well as their flourishing careers in the world of art.

Learn more about this unique collaboration and the inspiration behind the duo's book in this exclusive interview with Mess Magazine.
Why did you choose to create a book with Marco Antonio?
Rankin: I've been working with Marco for nearly five years now and over that time we have really grown together as creative collaborators. From his first shoot with me for HUNGER through to really experimental projects we've done with magazines like KING KONG, Marco has really become part of the fabric of my studio and my team. When I look back over our work together there are so many shoots I love and I really wanted to share them through print. It's so easy nowadays to put a lot of energy and excitement into work, for it to go online, on social media, get a load of likes and then never be thought of again. Print makes things more permanent, books are things you return to for inspiration again and again. So by putting my favorite images with Marco into a publication, I'm really asking the audience to engage with our vision on a deeper level.
Do you prefer beauty over fashion? What's so inspiring to you about working on a beauty photoshoot rather than just a fashion one?
Rankin: I love a beauty shoot because all I need is my team, a model and a great make-up artist. We can move quickly and we can play a lot more than in fashion. I've even been known to do three or four beauty shoots in one day; I get an idea and bang, we're right there doing it. I love to work with different models and different artists, and beauty photography gives me this all the time. I get to try new techniques, and I get to learn about other people's styles, backgrounds, and interests. If I did the same thing every day I would get bored, so my love of beauty photography is fundamentally about the freedom it gives me creatively.
How did the creative process of creating the book look like? How did two of you come together to collaborate on the beauty book?

Marco: We've worked together with Rankin for almost 5 years now. During one of the shoots, we discussed the possibility of collecting all of our projects in one place. That's how the idea of Marco X Rankin was conceived. It's been a dream of mine to do a book ever since I picked up 'Making Faces' by the iconic Kevin Aucoin (one of my biggest influences). Beauty book is a great way to highlight the journey, and leave the mark as a makeup artist. And what better person to do it with than the legendary photographer Rankin. We chose our favorite pictures and work on some more material for the book throughout the year. It was a very collaborative project. Rankin and I are always on the same page when it comes to work and the vision we share so the book came naturally.

Why did you decide to release a book, instead of an online feature in a magazine or on social media?

Marco: We are living in a very fast pace world. Social media constantly floods us with the stream of images which is interesting but very short-lived. It can be difficult to constantly battle for the attention of the viewer in social media so we decided to step away from it all for a minute and release an actual physical product. Something that people can touch, feel, come back to at any time. There is nothing better than having a book in your hands and study the images. I also really wanted to leave something behind, to highlight a certain point in my career, something that will not be lost.
Define in 2-3 words the explosive style of Marco Antonio and Rankin shown in the book

Marco: Colour, Humour, and Detail.
A lot of people use make-up and fashion as a way of expressing themselves. How do you channel your inner creativity and let it manifest as a fashion or beauty project?

Marco: There is definitely more room for creativity nowadays. The lines between male and female beauty are more blurred and we have more types of faces that are commercially used. It gives me more opportunity to experiment. I see makeup as an art form and with today's technology that the beauty industry developed, it allows me to channel my creativity more precise than 20 years ago. The variety of colors, textures, products are all important tools that allow me to express myself and push boundaries when working on beauty projects.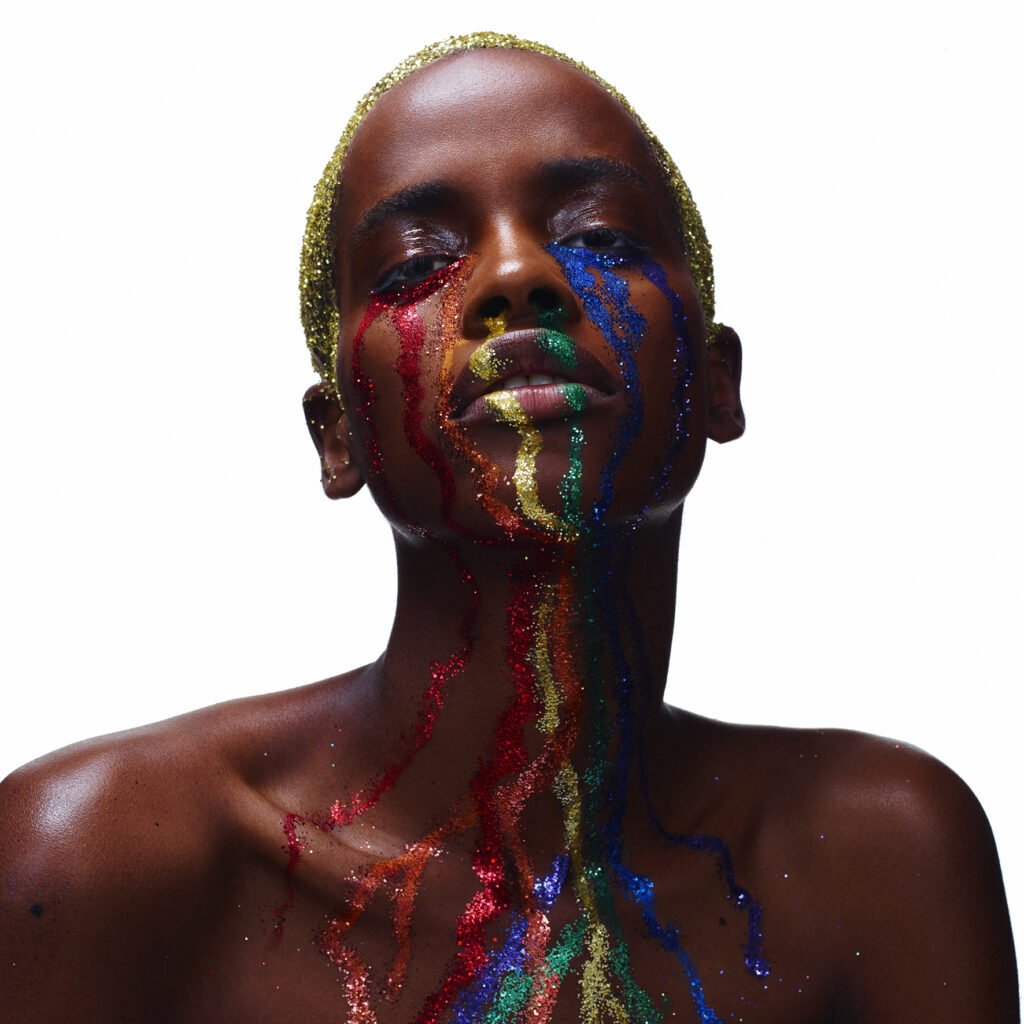 You have been working in the creative industry for some time, what's your secret in staying relevant and choosing the projects or photoshoots that resonate with you?
Marco: I think the first thing you need if you want to survive in this industry is passion. You also need resilience and patience, but talent and creative vision are most important. Skills can be taught. I like to think that after 23 years in this industry I have a style that people love and recognize. I'm a very versatile makeup artist, I equally love being subtle as well as conceptual. I worked on so many projects over the years and I like to take on the new challenge but I think the projects that excite me most are those that push boundaries and allow me to experiment.
Tell us one surprising or striking fact about the book, something that nobody knows.
Marco: We had so many great pictures and only limited space in the book. We were literally going back and forth with the selected pics and the final version was agreed hours before the book went into printing. We were spoilt for choice on this project but I think the final selection is amazing and everybody who buys the book will have as much pleasure looking at the images as we had to create them.
Marco Antonio X Rankin is available in stores and online everywhere. Be sure to follow @rankinarchive and @marcoantoniolondon for an inside look into their very artistic worlds.