For as long as I can remember I have always dreamed of visiting Cinque Terre. It was actually around the time I properly started reading online blogs, in 2010. I remember seeing cliffs full of coloured houses that would reach the marina and would imagine just how beautiful the view must be from one of those houses. This year I had the chance to go not only to Cinque Terre but to be able to visit four out of the five towns with one of my best friends too.
The English translation of 'Cinque Terre' is 'Five Lands' this is because it consists of five unique and picturesque towns aligned along the Southern Italian coast: Monterosso, Vernazza, Corniglia, Manarola and Riomaggiore. Each town is full of history, great food and amazing sea views. One of the advantages we had was that, I, being half Italian speak it fluently and this way we were able to connect with the locals better and even surprised them at times!
My friend Siena and I stayed in this apartment in Vernazza with a rooftop terrace overlooking the sea. Our host Gemmy welcomed us with open arms at the train station and brought us directly to our apartment. She gave us some recommendations on what to do, where to eat and wished us a great couple of days in the Italian town. Vernazza is known to be one of the more romantic and less busy towns, also one of my personal favourites – after Manarola!

That afternoon we changed straight out of our travel clothes, into our swimsuits and headed down to the marina! There we met a couple of local boys who were jumping from the rocks into the rough sea water, being the daredevils we are, we dove in with them – getting out was a struggle as the currents were very strong, however still a great and thrilling experience! That evening we had dinner at Ristorante Vulnetia. We indulged in pesto pizza and sipped on prosecco whilst conversing with the French boys next to us! If there's one thing you have to eat when in Cinque Terre it's the pesto pizza (or anything with pesto for that matter! After all, it is where pesto originated!)
During our stay in Vernazza we woke up everyday in the early hours of the morning not only to avoid the hustle and bustle of the tourists but also in order to get the first lot of fresh bread from the bakery under our apartment. Each morning we would head on down at about 7am, get our pastry and enjoy our breakfast by the sea watching the last moments of the morning's sunrise.
On our second day we explored the town of Riomaggiore where we had hoped to go kayaking but unfortunately the sea conditions were too dangerous for us to venture out into the deep blue. Instead we sat on some rocks and watched the local fishermen doing up their boats. Riomaggiore is one of the largest alongside Monterosso so here you'll find a lot more movement as well as restaurants and boutiques along the main road. For lunch we stopped by one of the many fried seafood "fast food" (so to say) restaurants. Siena and I shared a portion of fish and chips, which was more than enough but it definitely did leave me wanting more! Being in villages where fishing is common means that the seafood is fresh and a lot cheaper – definitely do take advantage of this and eat as much seafood as possible!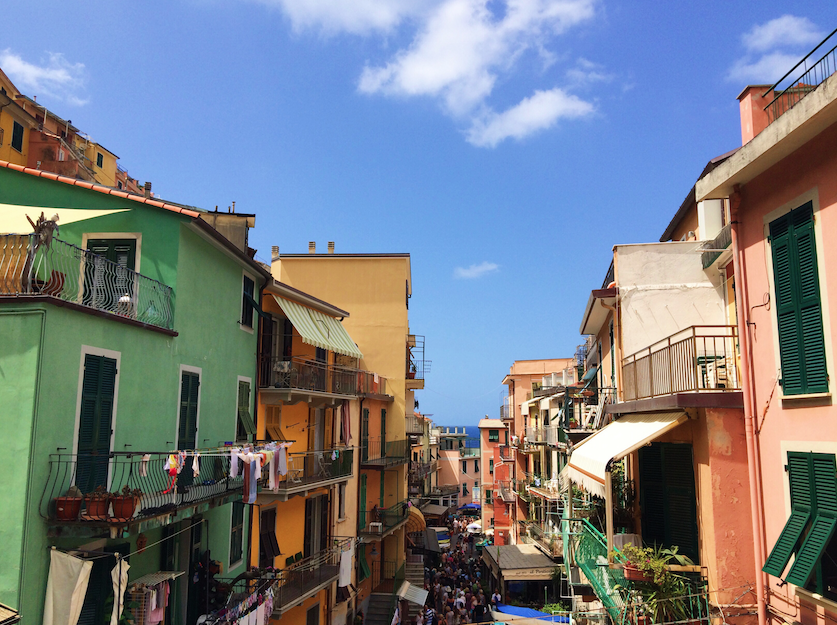 Later that afternoon we headed on down to Manarola where we explored the town, met some fellow travellers and had an aperitif at Nessun Dorma. Nessun Dorma is a beautiful restaurant overlooking the town of Manarola, the staff is so welcoming and friendly, the food (pesto in particular) and wine were to die for! There was no better way than to end the day overlooking the ocean and Manarola!
Our last day was spent exploring Vernazza, we'd only really been swimming and had dinner here so Siena and I thought we'd take advantage of the fact that we woke up early and climbed the many stairs leading to Castello Doria to get a good view of our town. Unfortunately only the tower of the castle still remains standing tall today as it dates all the way back to the 15th century! There is a small entry fee of €1.50 but the view from the top was well worth the walk, it was absolutely insane!
In the afternoon we swam by the marina and made friends with some Aussie travellers who, later in the evening had some wine with on our terrace over looking the town's lights! It was such a great ending to an incredible trip with one of my best friends!
For more exclusive images check out: http://lifeinthetrendbible.tumblr.com/