12th May in Studio Domaniewska, Warsaw turned to be a lucky day for the winner of one of the biggest competitions for young fashion designers from Europe – Fashion Designer Awards. Marta Gos and Martyna Sobczyk won the prize of 15,000 zlotych, internship in Alexandra Moura's atelier and collaboration with AVON Poland.
In the finale gala we were able to see 10 finalists from Poland and Europe that showed their collections on catwalk. The main theme of all collections was 20's and 30's decades style. Each designer showed 4 best looks from the whole collection. We could had seen many different interpretations of 20's and 30's style, from classic pieces to more avantgard and modern. For the first time in history of the competition, the duet Marta Gos and Martyna Sobczyk won prestigious awards.
Exclusively, last year competition winner, Serafin Andrzejak showed his latest collection for men and women on the catwalk and wowed the audience. His post modernistic attitude combined with dark, mysterious approach to XXI century fashion, definitely convinced us that black colour is effortlessy timeless.
The next big point of the evening was the show of Portugal fashion designer Alexandra Moura. Her collection was inspired by witches from Jemen. The collection was full of big black hats, wooden handmade jewellry, black colour and masculine silhouettes. These elements built very mysterious, sometimes even magical atmosphere that was hanging in the air.
In summary, we are witnessing the beginning of big expansion and growth of Polish fashion scene and hopefully in next few years, our fashion shows will be as good as the ones from abroad. Polish fashion and its origins are definitely much different than high fashion scene from NYC, Paris or Milan so we cannot expect that fashion industry in Poland will evolve so quickly after years of stagnation. We are still learning a lot, by looking for individual Polish style – not copied or inspired by the West.  Competitions such as Fashion Designer Awards give such a great oppurtinity for young fashion designers to show their work to bigger audience. We are hoping that this year's finalists will succeed in fashion industry soon by showing commitment, passion and love to designing.
Marta GOS and Martyna Sobczak presented handmade dyed silk clothing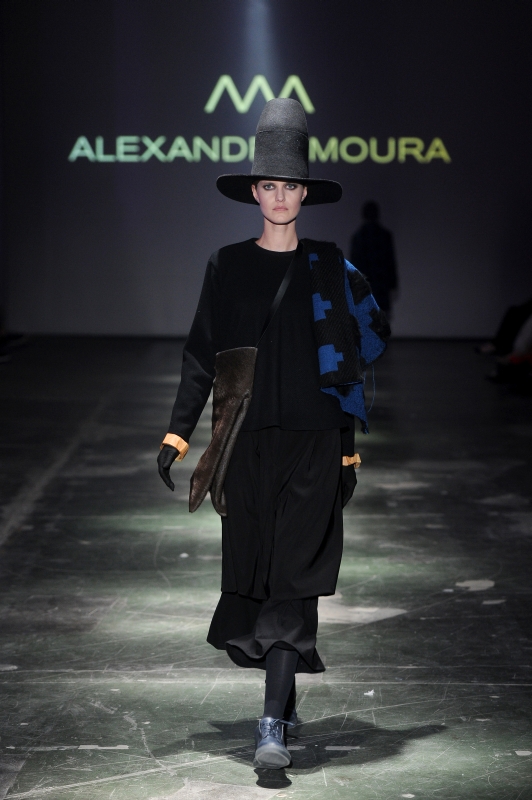 Alexandra Moura's Show