With Graduate Fashion Week only a day away, there is a lot of amazing talent coming straight our way, who I'm sure are going to make some very exciting ripples in the fashion industry. After getting a sneak peek through social media, I decided to investigate some of the designers whose catwalks I've booked in to see.
From colourful knits to gender neutral garments to logo prints, these three up-and-coming designers really caught my eye, so I reached out to find out more. Keep reading to learn about their journeys into the fashion industry, what they're up to now and their plans for the exciting future. These are definitely ones to keep an eye on!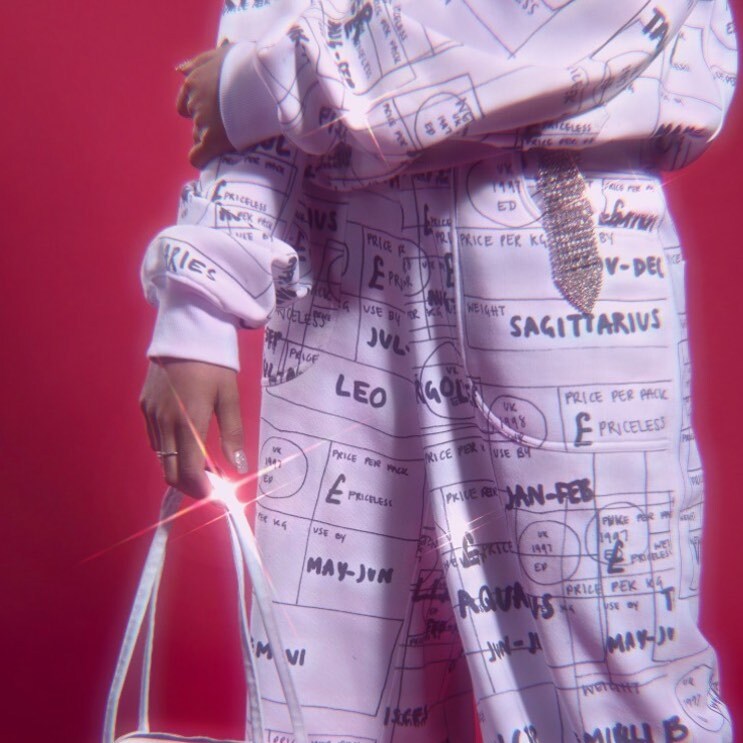 Emily Davies, De Montford University, Showing on Tuesday 4th, 3pm
Hey Emily! So Graduate Fashion Week is only around the corner, and we're very excited to see what you have in store for us. Tell us a little bit about yourself and how you got into fashion?
Hey! I'm Emily Davies, I study fashion design at De Montfort University and have just completed my final collection! You will see a couple of my garments on the catwalk at GFW and my look book will be on the magazine wall for you to see as well. I've always been really interested in clothes and fashion, I learnt to sew at a young age and I used to make up my own clothing catalogues with my own designs and pretend I was selling them. At school I knew I didn't want to do A-levels, so I went to college and did a two-year fashion design and textiles course because I knew it was something I was interested in and really enjoyed doing!
From logo prints to asymmetric designs to block colours, it seems like you have an array of skills and styles when producing your work. What are you most inspired by when you create a new garment?
Thank you! It really depends what the project is. For example, my final collection was inspired by elements of my life; I took inspiration from the clothes I wear, my favourite colours, phrases or words I say and also the food I like to eat and where I work. I had so much creative freedom whilst producing my collection – I just had fun with it! The print on my tracksuit is actually chicken labels that I hand drew and changed into star signs. All of the denim was bleached and dyed myself. I also embroidered patches that said 'AUP' or 'rate good' these are just funny things that I say that made my collection really personal. I try and make all my work personal in some sort of way.
What do you want people to feel and understand when you show them your work?
I guess I just want people to look at it and think yeah that's cool and they want to wear it! Like I said I really had fun with my collection, it's quite angelic and sort of tongue in cheek. So I want people to feel excited and intrigued when looking at my work.
Where do you see your work going in the foreseeable future? Have you got any exciting projects and plans ahead you can fill us in on?
At the minute I'm just trying to find a job to get me started. A few people have contacted me asking to do a couple of photo shoots with my garments which is exciting! One day I would love to start my own business, but I really want more experience in the industry first. I'm looking forward to GFW and seeing everyone's work!
Stefan Vella, Amsterdam Fashion Institute, showing at the International Fashion Award Show on Wednesday 5th, 11am
Hi Stefan! We cannot wait to see your work at Graduate Fashion Week! Can you tell us a little bit about yourself and how you got into fashion?
Hey, so you already know my name. I am 30 and I was born and bred on the tiny Mediterranean island of Malta. I was always quite creative as a kid and during my teens I started painting and stitching things on to clothes. It was my way of rebelling against my conservative upbringing. I never thought of fashion as a career, back then it was just fun. Later on, in my mid 20s, I started teaching myself how to sew in order to bring some of my designs to life. My best friend was so impressed with how quickly I picked it up that he suggested that I should take it seriously and that's what I did. Fast-forward to 2014, I took the leap and stared my degree in fashion design at the Amsterdam Fashion Institute and found my heart among fabric and pattern paper.
There's something really fresh about your work. What inspires you to create such geometric and dynamic clothing?
I tend to observe a lot. My surroundings, what I see around me and what I feel inside. My work is simply my way of making sense of it all. In my latest work I focused as well on gender neutrality and multi-wearability, which is the framework to which I apply my observations. I love to explore new shapes and garments that don't exist yet, garments that are not only intriguing to look at but also that can be worn, loved and valued.
You mention your work is gender neutral. Why is this important to you, and is this something you hope to see more within the industry?
Nowadays we acknowledge that gender is not black or white, that instead there are a hundred shades of grey. I want my designs to adapt to the wearer and not impose any preconceived notion of gender. I do not want to challenge traditional gender norms but delete them altogether. This is something I want to see more in society rather than just the industry.
What can we hope to see from you in the near future?
I would like to FINALLY start my career, doing what I love most as my 9 to 5 and not afterwards. I still have a lot of learning to do and steps to climb, so the prospect of having my own label is not a priority for the time being. In the mean time I continue to observe, feel and make.
Tara Dickson, De Montford University, Showing on Tuesday 4th, 15:00
Hey Tara! We're very excited to see what you have in store for Graduate Fashion Week. Can you tell us more about yourself and how you got into the fashion industry?
I am a Fashion Design student specialising in Knitwear Design at De Montfort University, Leicester. I am originally from Northern Ireland and started being interested in fashion during my A level art class when I decided to create my own collections.
In 2017 I embarked on a placement year in order to gain experience in the fashion industry. My placement year began at Peter Pilotto in Central London. In January 2018, I began my internship as a 'Creative Management' Intern for the Boss Men's Athleisure Jersey Team at Hugo Boss, Germany. After working at Hugo Boss, I found a desire to design Athleisure Menswear which I then developed into my final major project.
Chunky knits and bold colours seem to be your signature style. What are you inspired by most when you create these characteristic pieces?
During my Pre-Collection Capsule I began experimenting with Patchwork techniques using the cover seam stitch which is frequently used in sports and leisure wear. My final concept has been inspired by sports I used to play when I was in School. I was inspired by the markings on sports courts as these lines can represent stitch lines like cover seams, colour blocking and repeated pattern ideas. I wanted my colour palette to be bright, fun and colourful, representing by the endorphins you feel during and after playing sport.
I am also inspired the physical changes exercise makes to the body, I developed digital knitwear designs inspired by human body mapping for the Shima Industrial Machine; these designs show the muscles of the human body through single bed knit and a mesh like structure between.
I investigated 3D printing too when making my final designs. 3D printing is another approach Fashion Designers are using towards a more sustainable future. It reduces shipping, fabric waste and the sampling process, and has the possibility to use recycled plastics too, which was something that really interested me.
What message do you want to put across when people look at your work?
When someone looks at my work I want them to see how much I enjoy what I do. The vibrant colours and oversized silhouettes are a reflection of me as a person and I want the people who wear my garments to have as much fun wearing them, that I had designing them.
Our aim as designers is to make beautifully designed garments, which are environmentally and ethically conscious, whilst maximising product longevity and durability through using sustainable fabrics, up-cycling and repair. This is why I have decided to use 100% Egyptian cotton yarns in my collection, so that my garments are easily recycled and the amount of water and pesticides used to grow the cotton is reduced.
Have you got any exciting projects and plans ahead you can fill us in on? And where do you see yourself in 5 years time?
I currently don't have any plans for the future, but I am applying for Design Jobs in the Fashion Industry. In five years, I hope to be at a prestigious design house gaining experience to someday have my own design label!