Founded in 2016, 3DLOOK are digitally transforming the future of fashion. 3DLOOK is the first AI technology company that has built a mobile body scanning measuring technology that provides a personalised fit for consumers from just two photos in under 30 seconds. Through using body scanning and measuring technology, 3DLOOK is providing a sustainable solution to the huge issue of returns and waste in the fashion industry.
Mess Magazine has had the honour of interviewing Whitney Cathcart, the co-founder and CSO, to find out a little more about the revolutionary technology company, 3DLOOK.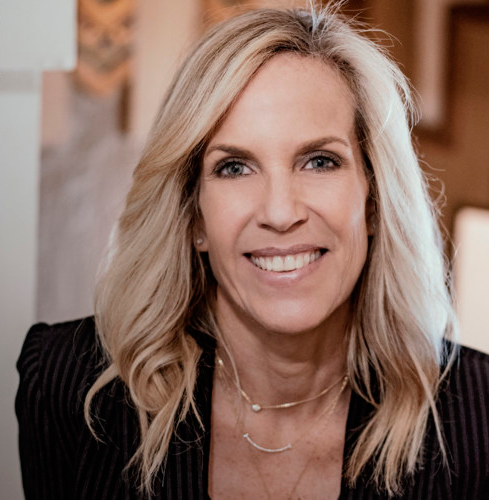 "I got myself dangerous enough so that I could understand technology, and this is when I came across 3DLOOK."
Whitney Cathcart
Whitney – Could you tell us a little bit about your background – both education and professional?
My education has nothing to do with fashion actually, I have a background in business so I always thought I'd go into banking! I landed working in the fashion industry within the late '80s in New York City. I worked in men's luxury fashion within the sales department until I moved over to women's apparel in the early '90s working for manufacturing companies that sold into retail. Through my years working in the fashion industry, I saw the rise of the teen mall, fast fashion, e-commerce, social-commerce to where we are today, so it's been an interesting journey, to say the least.
I left that side of the fashion industry in 2015 for several reasons and I was travelling a lot. Being in San Francisco, I live amongst technology and so what drove me to where I am today is seeing the lack of innovation in the technology mindset within the fashion industry and retail. I took a deep dive into immersive technologies and into understanding where the future of the industry was going to wind up. I was looking beyond the horizon, envisioning 10 years into the future. I got myself dangerous enough so that I could understand technology, and this is when I came across 3DLOOK.
3DLOOK were early in their journey with the company under a year old, I joined the company as an advisor and pretty quickly I was working full-time. My mission became taking what I had learnt over 30 years and working with a company that was going to bring the industry into the 21st century.
'Free returns' has become an online shopping standard for fashion retailers – but as we are aware, no return is free from environmental damage.
When did the waste problem of returns become apparent to you?
"The more we are shopping online, the more we are returning."
It was more of a gradual process for me, rather than a particular moment. I spent so much time working in the fashion industry that it was easy for me to understand the problem.
I remember my first trip to China, working for a manufacturing company that made a lot of garments for a lot of big retailing companies and just looking at hundreds of thousands of floor to ceiling fabric in factories and mills. It was apparent to me that if we stopped producing garments, it could be decades before we would have to produce another.
There has been a huge increase in e-commerce as consumers move to shop digitally rather than in-store. Social commerce moving onto social platforms such as Instagram has also disrupted traditional retailers as we are introduced to new brands daily.
The growth in digital commerce was going to happen anyway and I believe it has happened much quicker due to COVID-19. And it is important to recognise that digital commerce is not going to go backward, it is only increasing. The more we are shopping online, the more we are returning. If we just look around us, we can see that it is a problem.
Could you tell our readers a little bit more about your mission and how 3DLOOK offers a more sustainable solution to the waste problem in apparel?
On the consumer side, 3DLOOK is about making the consumer's shopping experience more simple and efficient. There is no standardisation in fashion in the fitting industry, so 3DLOOK is about how we can solve the complexity of the question 'what size do I buy?' which leads to the problem of massive returns.
If I understand what my customers look like, then 3DLOOK can make better fitting products for the consumer, and then everything with the production is going to be more efficient. These are simple efficiencies that we have never really had access to. Fashion retailers never really understand what their customer base is, they design and produce into an average that only gets a certain percentage of people who fit into that.
For the consumer, then, our mission is understanding how we can make shopping more fun. Regarding the brand, it is about how they are using body data to make a much more sustainable fashion industry.
As the world's first Body Data Platform, what was the main challenge in launching 3DLOOK and growing it as a business?
There are many! I would firstly say gaining accuracy from two photos from a body dressed in clothing is not simple. The first years were spent trying different combinations of technologies to understand how we are going to get to a level of precision that we can build a product. Accuracy is always an evolution for us, and we are always getting better and better.
Another iterative process for 3DLOOK was understanding the consumer experience. For example, learning that the privacy screen is really important to the consumer, and therefore altering the technology so that it is one of the first things the consumer sees. I wouldn't call this a challenge, though, and rather opportunities to continue to listen to consumers and understand them.
And let us not forget, scaling a company and building a team is always a huge task that presents a lot of opportunities and challenges! 3DLOOK focuses on building a team and culture that is inspiring and constantly striving to be better.
"Our mission is to be the standard for mobile body scanning technologies."
Through being a co-founder of such an innovative body data platform and witnessing the company's growth.
What about 3DLOOK brings you the most joy?
For me, it is working with a team who have a true passion and excitement in what we are building and watching 3DLOOK grow.
Building a start-up company is incredibly difficult at times, it involves a lot of work, late nights and weekends, so you must have a lot of passion and belief in what you are building. It is so important that you build a culture in which you are inspired by the people surrounding you and that you also inspire them.
Having the opportunity to do really good things for the fashion industry, an industry that long needs it has been incredible. The apparel industry has been slow to digitise, and changes are just beginning to happen, so to be a part of the evolution and transformation is super exciting.
Simply put, I would say it is to be a part of something that is bringing the fashion industry into the future is what gets me up every morning… and keeps me up late every night.
How would you say 3DLOOK distinguishes itself from the other mobile 3D body scanning companies?
3DLOOK are constantly looking for areas where we can create that differentiation that sets us apart, and everyone certainly has a different angle. I believe 3DLOOK ensures that the consumer experience is frictionless. Our mission at 3DLOOK has always been to ask as little of the consumer as possible and to create a really fast experience. For example, the processing time is super quick with just a front and side photo with a processing time of just a few seconds.
Our mission is to be the standard for mobile body scanning technologies, not just for the apparel industry, but also other sectors that require personalisation, for example, furniture, gaming and health and fitness. 3DLOOK sees much bigger opportunities down the road, we are a big team who have raised a significant amount of funding that enables us to move quickly. All these things combined keeps us ahead of the competition.
I'd love to find out a little more about the structure of the company. It seems to have become a global corporation with offices in San Mateo, the United States, London, Ukraine, Kyiv and Odesa.
How do you manage this and communicate as a team? Has your means of communication been affected as a result of the pandemic?
Effective communication is the way our company grew up. 3DLOOK has always been a Zoom company, it has been part of our culture from day one. We have always had the tools to communicate digitally than more traditional companies may not have had exposure to. The impact of the pandemic hasn't really affected the way that we communicate. If anything, it has made our company more productive and efficient due to the inability to travel!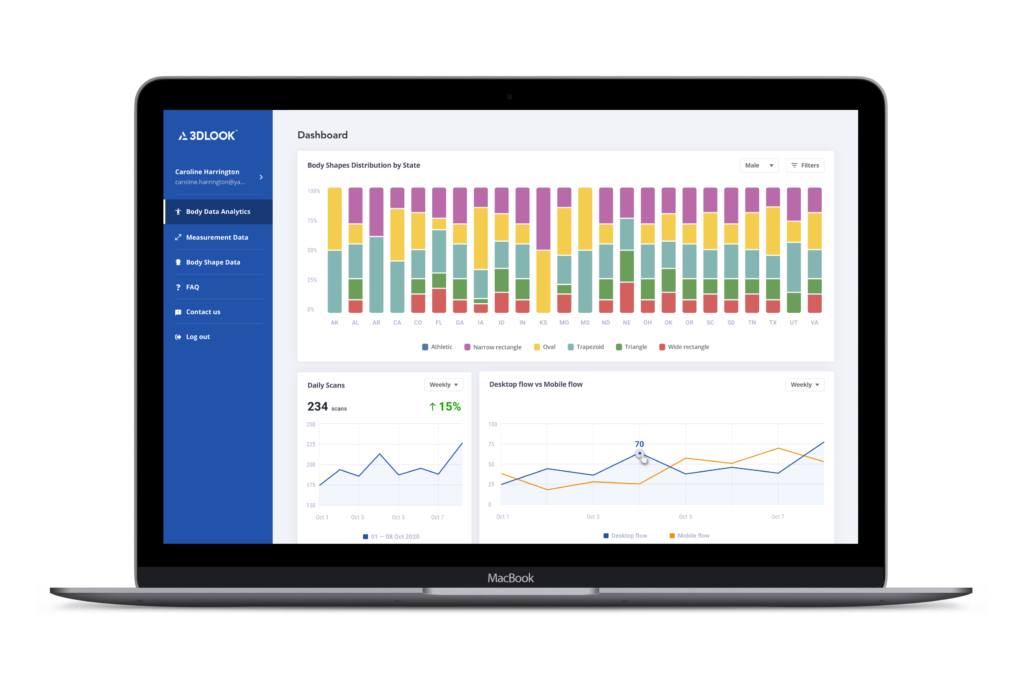 Technology such as 3D body scanning is a vital solution to the waste problem in fashion.
Apart from technology, do you think there are any other main solutions to the issue of returns/waste and the damage that this does to our environment?
The USA has built a consumer mindset where it is just as easy to buy multiple sizes of things and then return them as it is to just buy one. I think we need better education for consumers around what happens when you buy multiple things intending to return them and why it is bad for the environment. This also comes down to how the brand is communicating with the consumer.
We are dealing with the implications of return rate problems from digital commerce much quicker than we would have without COVID-19, and it is creating a perfect storm for technologies like 3DLOOK. The problem is too large to single-handedly solve the waste problem, but I do believe we can make a huge difference, and it starts with a lot of what we are already doing. 3DLOOK is helping both the consumer, to not feel as if they need to buy multiple sizes, and the brand to create more accurate sizes and better fitting products. These combined will help combat massive returns and the waste problem in apparel.
Thank you so much to Whitney Cathcart, for such an inspiring and educational interview about yourself and 3DLOOK. 3DLOOK are an innovative AI-first company pioneering technologies that work toward creating a more sustainable fashion industry.