Mess Magazine is delighted to reveal its latest interview with another audacious up-and-coming star of the industry: Ryle Tuvierra.
Better known as The Fierce Walker, she joined the community of Mess recently on What A Mess with an entertaining chat with our EIC Domi Perek. Ryle is taking over Mess Magazine once again for a special and fierce interview on the phone with our team member Daniel Face.
Originally from the Philippines, with a distinguished multicultural background, Ryle is now spending this pandemic crisis safely and with impeccable style in her apartment in Barcelona, Spain. Before the pandemic you would find her at the most outstanding shows and parties at fashion week with her alluring outfits and sophisticated attitude. She has grown her reputation not only for her phenomenal style but especially for her attention to details and her business instinct, indeed, she goes beyond being a fashion curator, she's a fierce fashion educator, she is The Fierce Walker.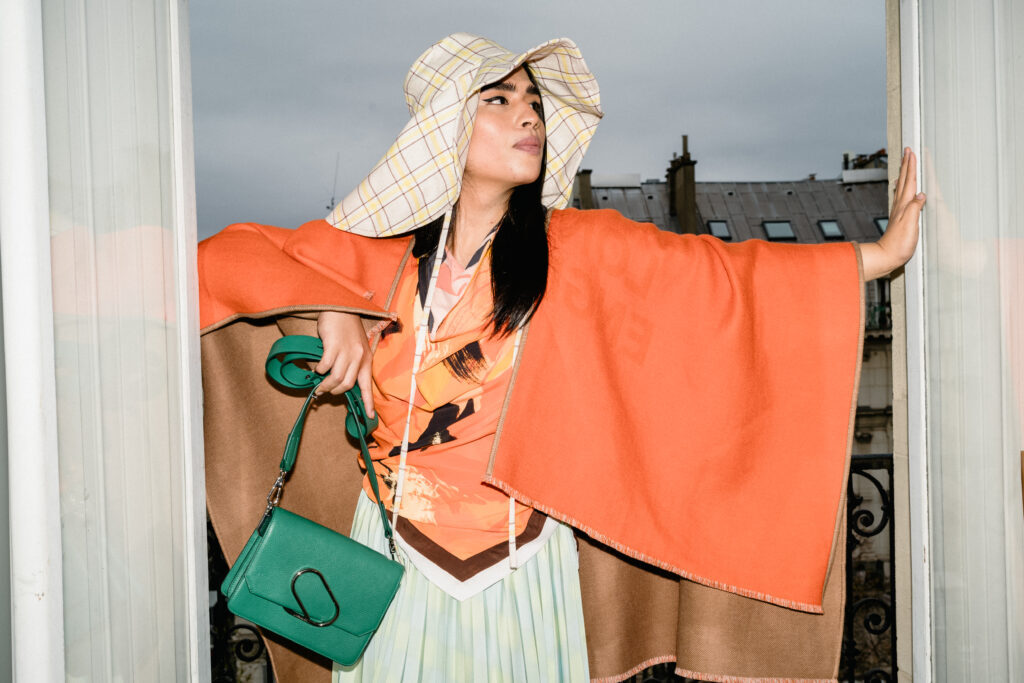 Daniel: Buenos dias Ryle! ¿Que tal? It is a pleasure to e-meet you once again for another fierce talk with you, exclusively here at Mess.
Ryle: Buenos dias Daniel! Todos bien, muchas gracias. I am so flattered to meet you too and excited for this new interview with Mess. I will be honest and fierce with all of my answers, that's for sure!
Daniel: Thank you very much Ryle and I am sure you will slay as always. Would you start by introducing our readers to the Fierce Walker, how did you pick this name and what brought you to start your journey in fashion?
Ryle: The Fierce Walker is my brand and alter-ego in fashion. The aim of the brand is to Instigates inclusivity by empowering creativity and diversity with a fierce attitude. It all started way back 2014 in Dubai, UAE, I was working at 7/11 as store staff and it doesn't resonate on who I am and what I stand for that is why I opened a blog on Tumblr and create a different persona on Instagram that reflects my taste, style, and views about fashion. I chose The Fierce Walker because I love watching Amerca's Next Top Model and Tyra Banks always say the word "Fierce" so I used it as my rebel aura in life that I can do this and I am fabulous. My dad loves to drink Johnny Walker, so I got the word Walker from there and make it The Fierce Walker to have a balance of feminine and masculine side of the brand. Moving forward I am a fashion curator attending fashion weeks in different fashion cities London, Paris, Milan, and upcoming fashion cities like Copenhagen and Tbilisi. I curate special runway pieces for my private clients in the Middle East and Europe. I used to work for a creative agency in Dubai as a Social Media Manager for different international brands.
Daniel: How did you find settling your business in a city like Dubai, with a prosperous fashion market although with severe restrictions on social classification and gender identity ?
Ryle: Dubai is such an amazing and out of this world city. The city that made my dreams into a reality. I never imagined that I would make it in a city like Dubai where there are restrictions and for a different woman like me it is risky, to be honest. But all the risk I took was worth it and Dubai will forever be the home of The Fierce Walker brand because that is where it all started. It showed me what life is at it is a super extra lifestyle. The grandiosity of the place and posh lifestyle is what I will never forget and people like Michael Cinco and Marriam Mossalli who opened doors for me to be part of the industry and get noticed by the media. Until now, I am still grateful for all the memories I had in Dubai. I feel like to survive in a city like Dubai you need to respect the culture, people, beliefs, and values then execute yourself flawlessly with the right people around you.
Daniel: Now, you are based in the marvellous city of Barcelona. How was moving in a new city and country in nowadays pandemic circumstances and what keeps the Fierce Walker turned on?
Ryle: It was an exciting move for me in the middle of the pandemic. Believe it or not, it feels like a movie or an adventure. I have never been here and for me coming here and finding myself is such a bold move or should I say Fierce. It is scary at first because of the pandemic but Spanish people are very welcoming and warm and the whole vibe of the city is just really empowering for me. I feel that freedom is bringing me to a whole new level, and it gives me the power to visualizing my plans in this city which will excite everyone. You sense that the city is relaxing and calm not just because they have their "siesta" but also the place with different grandiose architecture and the attention to detail.
Daniel: What is so far your first impression of the fashion scene in Spain and how would you compare it to the ones you experienced in the big four fashion capitals?
Ryle: To be honest I haven't got a chance yet to attend or visit an event here but in my observation Spanish fashion here is very Mediterranean because they have an easy lifestyle because it is close to Italy which is very calm and outgoing. Spain has more vibrant colours, that is why it shows the culture. You cannot compare a city to one or another because every city is special on their own and the fashion scene is always different. Spanish people are very classy, and that is why I love this city a lot. You have the effortless elegance with an outgoing twist that gives an impression of warmness. I cannot wait to share more soon my journey here and the fashion scenes here as time goes by.
Daniel: You are a valuable advocate of inclusivity and equality rights, how far do you believe fashion and society in Spain are, to be inclusive with all walks of life?
Ryle: I could see a lot of trans visibility on ads and just like the representative of Spain in Miss Universe. For fashion and media, it comes hand in hand when we talk about trans visibility. In my opinion "Don't demonize sex industry, particularly sex workers." Although, here in Spain, it is not legal to be a sex worker however, work is work as long it is safe and they comfortable. No one is forcing them to do it. Being a woman, you have to say on how what to do in your life particularly. I think it is a statue of empowerment as a woman and we are free to do whatever we want. We should not stereotype sex workers and their way of living because that's their choice. The city is very welcoming and warm for LGBTQ+ and that is the main reason I moved here. 
Daniel: What would you suggest brands and companies in the world to do to be more socially responsible and inclusive? Do you have any expectations of how the future of the industry will evolve into this aspect after the pandemic?
Ryle: I feel like brands and companies should be more aware and sensitive about tackling gender issues or topics. If they want to be inclusive, they should hire and get a talent who are members of the LGBTQ+ and get to know more their story and see them beyond their gender. Brands should create Ads that will shed a light on the LGBTQ+ image that works hand in hand with the company's vision and values. It will give much better feedback from the society and community if you will make it inclusive and open for everyone. They should also be Tolerant of being inclusive and diversifying their ads and talent pool. It will open many doors and opportunities to everyone, and it will give a more different level of experience for the brand too.
Daniel: How do you think the colossal labels in the world should redesign their communication strategies to re-educate their audiences?
Ryle: I feel like they should work on the Quality influencers and Tiktokers according to their categories like fashion, beauty, entertainment, and do not cross-marketing because every creator has its strength of influence. I also believe that it should not just be a numbers game when it comes to social media. Communication specialists should look at the real value and the ROI once they get an Influencer/Tiktokers. Not everyone that has a following should be invited to everywhere unless they are good at something or they have a following in that category.
Daniel: Thank you Ryle, it is nice to hear a loyal and fierce opinion in all you answers but before going, what should we expect from the Fierce Walker in the coming months?
Ryle: Expect the fiercer and more feminine side of The Fierce Walker, also my upcoming The Fierce Walker Foundation wherein I will use my connections, network and my voice to raise awareness for the Trans community most especially for southeast Asian Trans to have their voice and tell their story. I also aim to help those trans who are in need most especially if they feel like they are in danger or bullied. I have experienced all those crazy and bad things and I do not want that to happen to a young trans like me. I feel like awareness and proper action is the solution to educate the society on what Trans is as a woman. You will also see a different side of The Fierce Walker as I evolve on becoming the woman I always wanted to be. I want to showcase my talent in painting, storytelling, help brands here in Spain and around the world to become better brands most especially on diversifying the brand and instigates inclusivity.
Daniel: Finally, what would you recommend to our readers to do to stay fierce and be responsible over these uncertain times?
Ryle: Let's all be kind and compassionate to one another. I feel like this is the proper time to slow down. Get to know yourself better and find things that will truly make you happy. Standing up for yourself and your passion will bring you a lot of happiness and peace into your heart. Never forget to Stay Safe, Stay Fierce and Be Strong most especially during this time.