Copenhagen Fashion Week AW21 Digital Edition:

2 February – 4 February
Copenhagen Fashion Week, the leading Nordic fashion week, is fast approaching. Once again, we witness human capacity to adapt to such adverse circumstances due to the coronavirus pandemic and its inability to halt our creativity, as CPHFW will take place completely online. From Tuesday 2 February to Thursday 4 February, CPHFW has launched a jam-packed schedule including live digital fashion shows and Q&As with big brands and industry leaders to immerse ourselves within the comfort of our homes.
CPHFW are committed to promoting sustainability and the strive for positive change within the fashion industry. This is why the brands that are participating in CPHFW have been carefully selected to parallel the ethos and ethics that reflect the values that the festival wishes to promote. As part of CPHFW's AW21 Digital Edition, they have launched a series 'CPHFW: SUSTAIN' recognising the systematic problems when it comes to unsustainable practises in fashion and the responsibility that the climate emergency demands. This series highlights the ways that the brands participating in CPHFW are undertaking a responsible ethos and implementing sustainability and ethical practises into their businesses.
Each selected brand of CPHFW has a unique perspective and view when it comes to sustainability and the ways in which they strive toward positive change. Each brand also has a different method in how they undertake a responsible ethos in their business.
There are so many brands we see, especially those pioneering a fast-fashion model, that jump on the 'sustainability' bandwagon, without addressing any of the systematic issues or establishing any real, practical sustainable changes in their business. We wanted to highlight a few of the brands that we believe understand the necessity of transparency when it comes to sustainability.
Skall Studio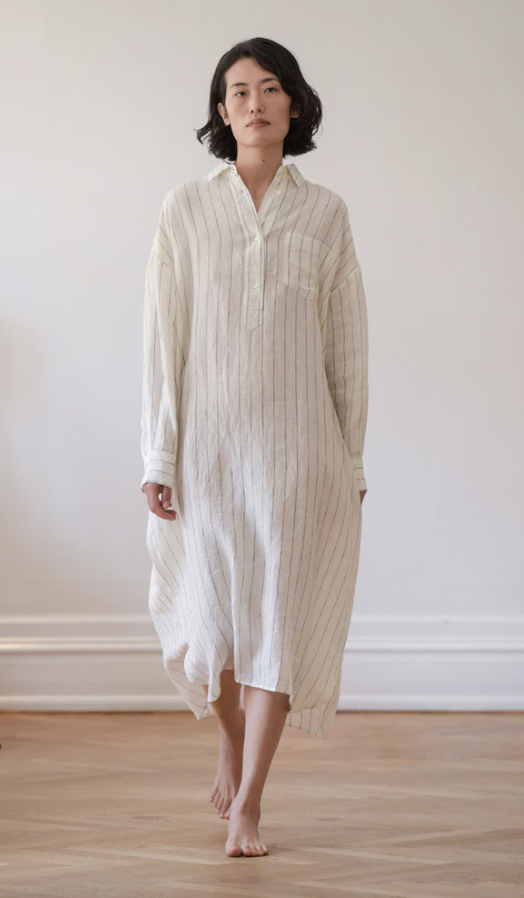 "Skall Studio is a Danish sustainable fashion brand, established in 2014 by sisters Julie & Marie Skall. Skall has become synonymous with the core values that the brand still represents today."
Julie and Marie Skall believe having a clear conscience when it comes to one's wardrobe is essential, and aims to create fashion to reflect this.
A sustainable lifestyle has been fundamental to Julie and Marie which has naturally developed an ethos to sustainable fashion that is mirrored in Skall Studio from the start. Skall Studio summaries the brand's commitment to sustainable fashion into five core principles which defines their business manifesto:
Design
Creating clothes that are timeless, including high quality items, a timeless design, and the ability to be repaired and renewed – because loved clothes last longer
Materials
Skall studio only makes fashion using natural materials such as organic cotton, linear and wool to ensure the production of their clothing does not compromise the environment and protects animal and human welfare.
Socially Responsible
Through creating a socially responsible supply chain, they consider those working for Skall Studio as family, and ought to be treated as such. They see themselves as responsible for creating a culture within their business that is one of respect and concern. A culture that builds strong relationships to acknowledge each and every individual that is involved in the making of their clothing, and to ensure every individual feels supported and appreciated.
Environmental Care
Skall studio makes ethically conscious choices to ensure compliance with environmental laws and minimise environmental impact of their production as much as possible.
Care and Responsibility
They encourage the consumers to care for and preserve the life of their clothing in sharing the sustainable values of Skall Studio.
"It is the brand's hope that the spirit of joy in our collections, together with the choice you have made, will bring you the same kind of peace as we find, when making the sustainable choices."
Do not miss Skall Studio's Digital Show at CPHFW on Tuesday 2 February 11:00-11:20am.
House of Dagmar
"House of Dagmar is a Swedish fashion brand founded in 2005 by three sisters, Karin Söderlind, Kristina Tjäder and Sofia Wallenstam who decided to pick up the legacy after their late grandmother."
With a sustainable approach, House of Dagmar aims to empower women in their everyday lives through encouraging conscious decision making when it comes to one's wardrobe and creating timeless items of clothing with character. House of Dagmar guides their sustainable ethos with three core principles:
Design
Creating timeless clothing with long-lasting materials. For example; Certified viscose, organic cotton, friendly fur, mulesing-free merino wool, recycled polyester, chrome-free leather, lyocell fibers and eco-regenerated cashmere are some of the materials featured in House of Dagmar's collections.
Ethics
House of Dagmar demands that their supply chain mirrors their responsible ethos, only working with those who prioritise human welfare and working conditions that allow their employees to thrive. Their production methods have minimal damage to the ecosystem, and they utilise environmentally-friendly production methods.
Longevity
Aiming for clothing to have a longer life-span than the average item of clothing to encourage the consumer to be more sustainable in their consumption of clothing.
Social consciousness is essential to their brand. For House of Dagmar, this is defined by supporting and empowering women, undertaking responsible and ethical business practices to ensure human welfare is protected, and sustaining the environment and ensuring it is not negatively impacted through the production of clothing.
Most importantly, though, House of Dagmar recognises that their work is not done. House of Dagmar is striving to be better and to always be striving to implement even more positive changes into their business, for example, new ethical fabrics and production methods. Ultimately, the Swedish fashion brand believes sustainability is "not only a trend but an important journey, central to the Dagmar-DNA".
House of Dagmar will present their AW21 digital collection on Wednesday 3 February 14:00-14:20pm.
GANNI
"Based in Copenhagen and owned and run by husband-and-wife team Creative Director Ditte Reffstrup and Founder Nicolaj Reffstrup, Ganni has developed exponentially with its Scandi 2.0 sense of style."
Ganni does not identify as a sustainable brand: "We recognise the inherent contradiction between the current fashion industry that thrives off newness and consumption, and the concept of sustainability."
Instead, Ganni utilises the concept of responsibility as their foundation. Ganni sees it as their moral obligation to become the most responsible version of themselves as possible. But what does this include? To name a few:
Ganni are committed to make conscious choices for their business in order to minimise their social and environmental impact.
Over the course of a year, Ganni have introduced over 30+ responsible initiatives, including a take-back scheme, rental platform & introducing more certified, organic & recycled fabrics into our collections.
Ganni is the first to admit their downfalls and failures in the past when it comes to ethical responsibility and recognises the systematic and problematic issues of the fashion industry, including how difficult it can be to combat these; but Ganni demands to be better.
Ganni vows to be more transparent and accountable in their journey going forward. To do this, Ganni has employed the use of goal-setting into their ethos to ensure they are always striving for change and ensuring positive progression. The brand has set 44 goals to reach within the next 3+ years to ensure accountability and transparency through their journey.

With embracing responsibility, Ganni aims to undertake ethical practises when it comes to the planet, the production processes, the people and their treatment and through responsible financial prosperity.
Establishing themselves as a global fashion brand of the future with self-expression fundamental to their style, Ganni has become "a state of mind, an attitude more than a way of dressing – everyone is welcome."
Ganni will showcase their AW21 digital collection on Thursday 4 February 17:00-17:20pm.