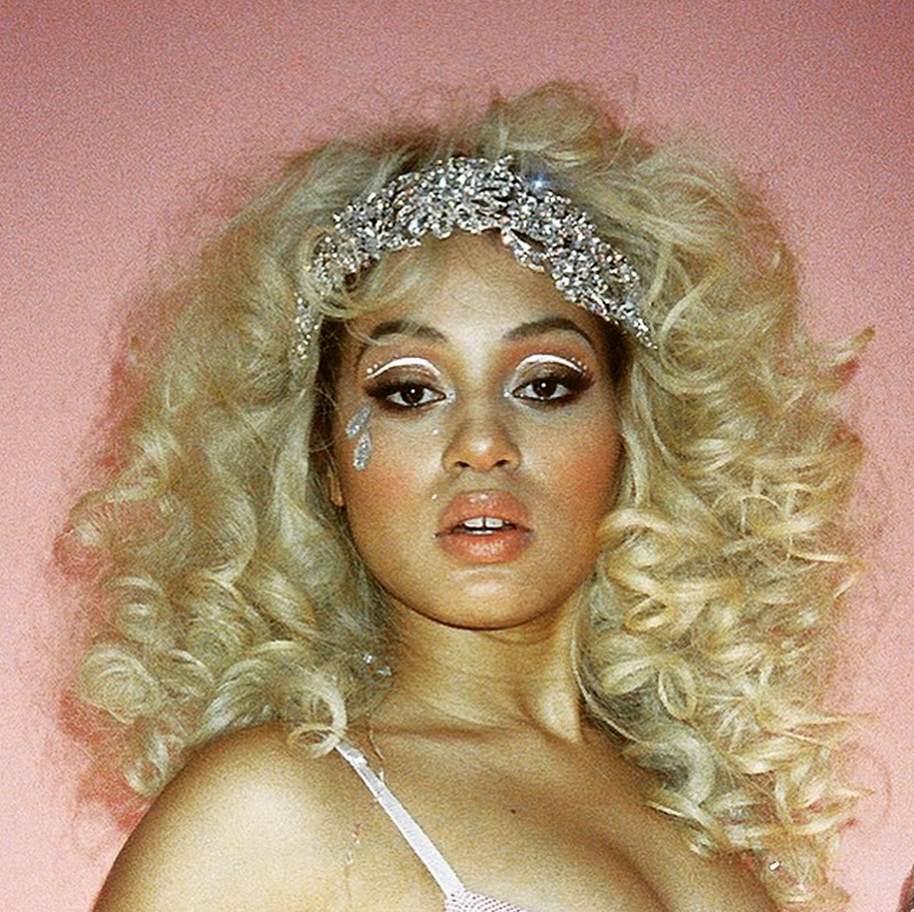 Louise Chantal is a upcoming singer/entertainer who plans to release her debut solo project this May and in addition to having dazzling soulful vocals, she also models and has become an online social media sensation over the last few months.
Her looks usually involve glittery eye shadow and thick blonde curls that lay on her shoulders and there is something about Louise's look that makes her different from your regular Instagram or Tumblr girl.
I look at her Instagram feed among the rest of her almost 35k followers, at the way she carefully selects her images and them of what her profile looks like. I'm interested in the flawless selfies and overall, her general style.
Taking inspiration from the like of Audrey Hepburn in Breakfast at Tiffany's, splashed in with some 60s influences as well as a dash of modern day woman.
I speak with Louise and ask her where she finds her inspiration for her style, how fashion will play a part in the upcoming release of her solo project and new music (which she tells me should be due in May, any day now) and I'm in awe at the intelligent responses she gives me.
Check out the interview below:
Hello Louise, thank you for taking the time to answer some questions with me today!
1)So first of all, your style is so colourful and very feminine. Would you say your style is a true representation of yourself?
I would say that my style is an accurate representation of myself because there isn't a single color that I am scared to try. I love color blocking, taking risks, and embracing my femininity.
2) Now as far as I'm aware you're a singer, how does fashion play a part in your music and is styling important to you as an artist?
I wouldn't say that fashion plays a direct part in my music, but I will say that my fashion has helped mold my image. My stylist, David Mansion, and I work very hard to make sure that my styling matches my sound. He makes sure that I love the things I wear; nothing is forced.
I'm also now delving into the world of costume as I get ready to start doing a lot shows, and I must say that I am having so much fun creating custom pieces with different designers and watching my visions and David's visions come to life.
3)Okay, so I follow you on Instagram and I obsessed with your feed. It usually follows a theme with regards to colours and picture selection which I love. Do you put a lot of effort into what you post or is it usually whatever inspires you; fashion, music, models etc.?
It was not easy, in the beginning, to create this color coordinated Aranbi themed world that is now my Instagram page. I spent a lot of time looking at what other creatives were doing and what they were promoting simultaneously. I had a vision in my head of a world that stimulated people through color, beauty, art, and intelligence. I can post about shoes one day, whatever I'm struggling with in life the next, and then rave about Beyonce or Naomi Campbell the following day. Women are multifarious; I want people to understand that an appreciation for fashion, hair, or makeup doesn't diminish my intelligence or drive for success. All images on my Instagram page represent things that I love, found funny, or simply wanted to share.
4) Your personal stylist is David Mansion, how does he go about selecting clothes for you and does it usually follow whatever your schedule is?
David is amazing and the way we collaborate is so much fun. He is involved in everything from my everyday looks to photo shoots and music videos. For big events, the clothing selection process begins with us bouncing ideas back and forth and trying to find pieces that not only represent our ideas, but are also practical because I am an independent artist and I will not go broke for fashion! For everyday looks, we usually take a couple days at the beginning of each season to get rid of clothing that I can no longer wear and then stock up on new comfy, cute, and affordable pieces.
5) Which models and artists in music would you say get your stamp of approval for their fashion?
I LOVE Solange. Her style and creative direction is impeccable. I also love Janelle Monae, Chanel Iman, Naomi Campbell, Jennifer Lopez… I think my list can go on and on. I am really inspired by women that own what they are wearing.
6) Do you have any fashion do's and don'ts?
I don't have any fashion "do's and don'ts" per se, but I do believe that you should wear things that you feel confident in.
7) Where are some of your favourite places to shop for clothes that do not necessarily relate to your job?
I enjoy splurging on designer shoes; miu miu, YSL, Louboutins… the list can go on and on. My father begin telling me as a teen, when I really enjoyed just going in a store and buying a bunch of crap, that I would get more out of my dollar if I saved my money and spent hundreds on one high quality piece that would last me years as opposed to spending hundreds on a bunch of low quality pieces that shrink when you throw them in the washing machine. Now that I'm in my late teens I really understand what he was trying to teach me.
8)Your style is very Lolita meets modern day woman, would you say there was a particular era in fashion or maybe even film that you have ever looked at for visual references?
I have definitely looked at the 60s and 70s quite a bit.
But Fran from The Nanny, Halle Berry in BAPS, and even Audrey Hepburn in Breakfast at Tiffany's have all inspired my style.
9) Are there currently have any pieces or items in fashion that you are desperate to have?
I am dying to purchase a custom gown by Catherine D'Lish, and I know that's not exactly a practical everyday piece, but I've been in awe of her work for quite some time and I'd love to have one.
10) Going back to your music, when you finally put your projects out how important do you think your style will be to you? Especially when it comes down to things like photo shoots, album packaging etc.?
I am going to be releasing new music for listening later in May so I am extremely excited about that. There was so much invested into my upcoming project. My style of course will play a huge role in bringing all of the visuals behind my project to life. We've already begun shooting and things are magical. I am very happy.
11)  Whose wardrobe would you like to raid and why?
I would probably raid Solange's closet. I love variation of color that her wardrobe displays and the cut of clothing she wears. Solange is so carefree and royal, two things I think every princess should embody.