Elie Saab 
What would you do if one day your eight year old son was rummaging through your drawers, frantically searching for the correct colour of material to sew to the bottom of the eccentric dress he had draped on your daughter, and the next, he was launching his own fashion label? If he swapped mud, sticks and stones, for pearls, crystals and lace? You would be proud. Perhaps a little worried at first, but then extremely proud. Well that's what Elie Saab shocked his mother with.
The 50 year old Lebanese fashion designer, who graces us with his Haute Couture each and every season, started off his career by crafting detailed wedding gowns with rich fabrics and silk threads. He was noticed by high society women in Beirut, and his journey to fame began. And then what would you say to your son if he received the opportunity to clothe Queen Rania of Jordan for her enthronement? You would congratulate him in the biggest way possible. Elie Saab had grown in publicity over the years, and a Queen wearing his own design helped get his ideas out into the world much quicker than he had expected. He continued to success, and in 2002 he became the first Lebanese designer to dress an Oscar Winner, Halle Berry. She wore his burgundy gown design when she took to the stage to accept her award for Best Actress, and from the moment she stepped off, Saab was bombarded with interviews from the top networks around. He was the next best thing to happen to red carpet fashion, and the public loved him and his designs. Saab was going to be sticking around.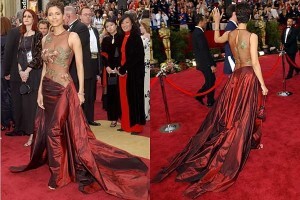 His charming creations can be found all over the world, with boutiques located in Beirut, Dubai, Doha, Paris, London, Geneva, Hong Kong, and Mexico, which itself screams success. The young boy, who was once sewing his self-made designs at the kitchen table, is now sewing into the world and showing off his self-trained talents all over. The next time you're taking a trip to one of these locations, take my word and stop at his boutique. You won't be disappointed when you peer at his elegant designs in many colours of ivory, cobalt, maroon, and so on; the list doesn't end soon. When Saab showed off his first Haute Couture collection in Paris 2009, his reputation grew and celebrities swarmed him for their own sophisticated and romantic design, as a bee might do to a rare and luxurious flower. Soon he gained well known competition, such as fellow Lebanese designers Zuhair Murad, Ella Zahlan, and Hanna Touma, and the race to the top began.
Competing with designers from his own country, it introduces a new type of competition into his radar. Saab has to make sure he has the upper hand at all times, as designers like Murad, Zahlan, and Touma all have extremely similar style to him. His 2014 Pre-Fall collection threw a large embellished spanner into the works, when Saab produced an array of new techniques and fabrics used. His theme was 'folk reverie', and he twisted his harvest inspired idea into an abstract performance full of texture, embroidery and plenty of red and purple flowers draped in lace. Perhaps this is the exact reason why his brand stands out from his fellow exquisite designers, and proves his global glamour? Most use the in-between-season time to hang back and please existing customers, but Saab pushes forwards and brings his own customers new unique and exciting pieces instead.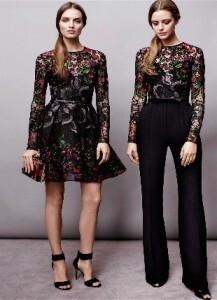 With his side of the brand that he dedicates to wedding gowns, Saab has huge competition from Reem Acra, another Lebanese designer. Together, they are seen as the pioneers of Lebanese fashion design, however what distinguishes them apart? They both include their home countries culture within their designs, on a huge scale, but Acra portrays more of a 'modern women' into her ideas. Although this does open her up to more options with woman who will be buying these dresses, as they have more of a varied selection, it does not portray the idea of exclusiveness as much as Saab's does. On your wedding day, you want the whole party to be staring at you in your customized gown, and admiring how beautiful you look, not thinking back to that picture they saw in a magazine of a women looking remarkably similar to how you look now. However, despite this, both designers are extremely popular in the wedding gown industry, and they will continue to be as long as they keep up their striking designs that we have all come to love.
In 2011, Saab launched his first fragrance "Le Parfum" which became an overnight bestseller in 15 countries. If you told him back then that he would be competing with Balenciaga and Carven for the best-selling perfume on the shelves right now, he would probably have shook his head and laughed at you. Or perhaps he would have agreed and told you that he knew the day would come? Who knows? But even just the idea that he started with the blossoming ambition to make lavish wedding dresses and ball gowns sweep the world and take us all away on his dreamlike designs, and now he has three major workshops in Lebanon, Milan and Paris, makes us see a snippet into how far his perfumes will go, too. Saab has released his third line of fragrances this year, with his Eau de Perfum creating 'splendour and radiance of a glowing femininity', which is just what we like to hear. If his perfume is equally as gorgeous and delicate as his dress designs, which it most definitely is with the pastel hues of fresh almond mixed in with budding orange blossoms – his signature scent – I'll be fifty shades of green with envy if I can't get my hands on it!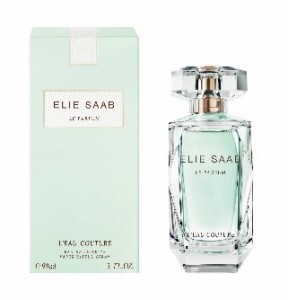 Saab's 'Spring 2015' collection reflects his original wedding gown ideas, with the long and elegant sheer dresses contrasting with and against his contemporary shorter ones. His usual portrayal of the fabulous 'Disney dress' has been kept alive, however this time he has finished it off with feathers and beads and sheer inserts. With being known for his shimmering red carpet look, this collection must have kick started something within him, as his 60's childhood of the "golden age" shone out within his fresh new line-up. Unexpected proposals of these sheer tulle jumpsuits and tulle robe coats with feathers on the sleeve all introduced his new relaxed persona. Plus, sticking to his chilled out vibe, nearly all the designs he showed, gowns included, were built with pockets, which we never thought we would see from Saab. Who knows what else will come from him, it is a changing world after all.