New album, new look? This is most certainly the case for the Pop superstar who had already marked 2014 the 'return of Gaga' after suffering a serious hip injury that drove her to cancel part of her tour last year – her third studio album 'ARTPOP' may have been released back in November but Lady Gaga has continued to step out for appearances, and when she stepped out she did it in style dressed in the likes of DKNY and Acne to Saint Laurent and Comme Des Garcons.
After returning from her much needed hiatus, Lady Gaga's stylist made sure to reassure her little monsters the Popstar's new style direction would be "toned down and pulled back and chic."
Kicking off the year in a few relaxed, minimalist pieces  featuring casual shoes, muted tones and natural looking wigs Lady Gaga soon turned back to her edgy eccentric style and swapped her few months of her simpler new look for her costume like couture style outfits. She's certainly known for her outlandish ensembles and wacky wigs to match though "Gaga 2.0" has stepped it up a notch for 2014 with bigger, better and ballsier outfits. So, here's a roundup of her latest iconic style moments.
Celebrating her 28th birthday in New York at the Rosewood Ballroom Lady Gaga turned up to the venue of her performance wearing a nude bodysuit embellished in red roses, pink satin platform heels and a matching red face mask (with a matching cab!)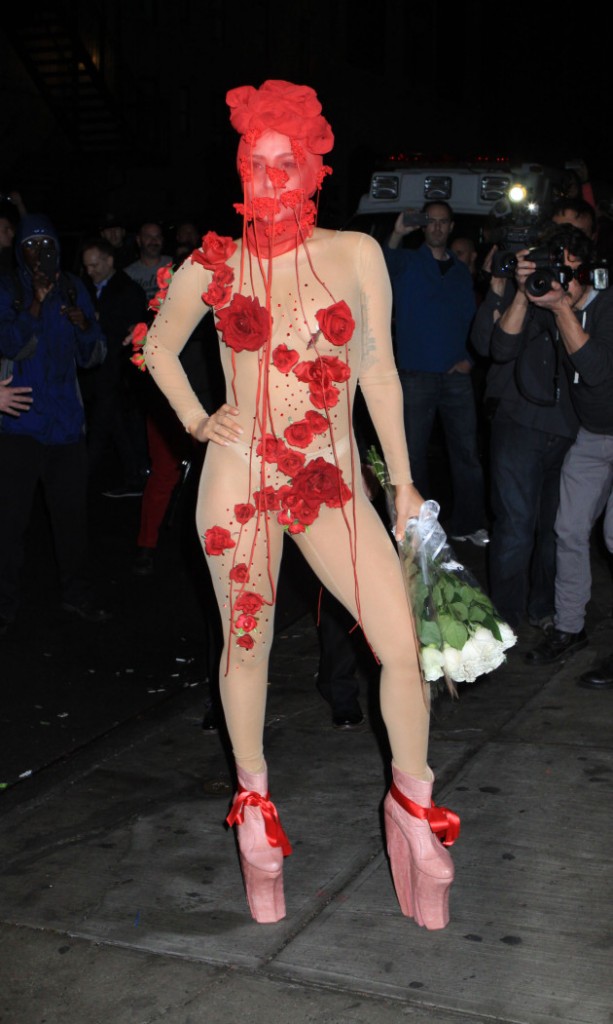 Re-creating one of her old looks Lady Gaga wore an OTT multi-coloured wig in one of the FOUR outfits she dressed herself in during a day of promotion in New York. Going grunge in just a studded bra, black underwear, leather jacket and fishnets Gaga put women to shame in another pair of her giant platforms for an appearance on The Late Show with David Letterman.
Dressed like a 'normal' 28-year-old Gaga took a day out from her outrageous fashion and crazy wigs to visit her family's restaurant in a floral ensemble. No haute couture, no un-wearable shades, no kooky head-wear just an off the rack floral top with pants to match and Saint Laurent shoes.
In a head-to-toe fur fringed white outfit Lady Gaga portrayed the abdominal snowman as she hid her face under the shaggy mask. Swapping her sky-high platform heels for knee-high fuzzy boots Gaga managed to keep cosy in New York City.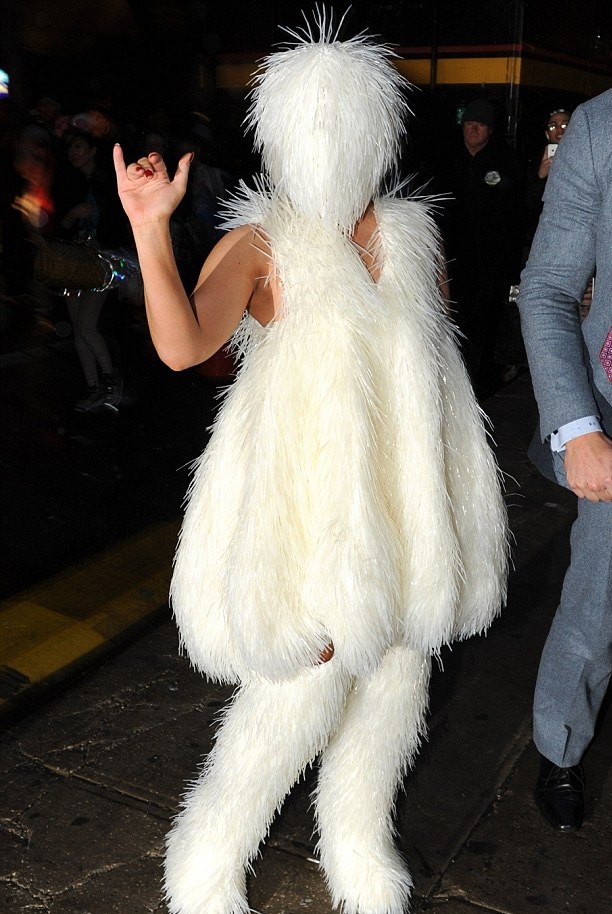 Looking classy in a Balenciaga coat layered over a turtle neck with matching black pumps Lady Gaga arrived at the Roseland Ballroom for a further night in her rose decorated taxi. Wearing fishnet tights and a black netted veil she added her Gaga quirk to the demure look.
Like a Barbie doll come to life Lady Gaga wore a Christian Cowan-Sanluis pink glitter ensemble. Featuring a collared shirt, cropped suit jacket with matching trousers, completely covered in sparkling pink glitter Gaga added a matching hat to her insanely long My Little Pony style hair.