1. Can you tell us about the genesis of Mayra Fedane brand and how you started to design?
My Parents were closely related to the fashion design and manufacturing industry, so growing
up I was exposed to product development from very early on in my life. Fashion has been a
part of my life forever which is why with full confidence I started Mayra Fedane in 2012,
straight out of LCF (London College of Fashion). I wanted to design something that was
artisanal, something that would bring attention to the person wearing it and something that
would be preserved for future generations as a piece of wearable art.
I started the Mayra Fedane journey by making pop colored bags that were inspired from the
concept of savoir vivre, nonchalance, spontaneity and elegance, classic styles mixed with
playfulness. I wanted to create things that would immediately be conversation starters.
2. Was it your dream to become a designer?
My dream was and is to be involved in any field that requires creativity. I am a product
developer at heart; not only interested in designing but also the creation. I oversee the product
lifecycle of my seasonal collections from conception to production. All of the Mayra Fedane
products are designed and made in house.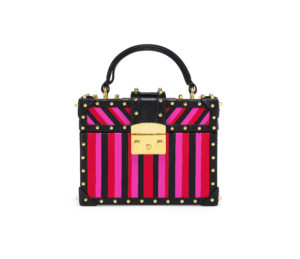 3. What is the vision behind the brand?
The vision for Mayra Fedane is the continuation of innovation to create the most beautiful and
colorful products that our customers love to buy and wear. We want to re-educate our buyers
on the beauty of artisanal work, be it hand weaving, hand embroidery, or applique.
4. In 3 words, a woman that wears Mayra Fedane bags is…?
Playful, Confident, Unique
5. What does luxury means to you? Do you consider the bags a luxurious product?
They say luxury lies in the eyes of the beholder. Mayra Fedane products are a once in a while
indulgence that customers treat themselves to.
We are now in an era where the acquisition of an "IT BAG" is a luxury that everyone spends on.
Handbags like the legendary Hermes "Kelly" and "Birkin" have catapulted this accessory into a
cult status. Carrying a cult worthy handbag not only elevates the person wearing it but is also
that one investment worthy piece in fashion that you can wear day in and day out.
What is the biggest achievement of yours so far?
The biggest achievement and compliment as a brand is when people react positively to our
handmade product when they see the handbags on our social media. We get a lot of
appreciation on our artisanal work and quality.
7. Who is your fashion icon? Who inspires you?
There is not anybody in particular that is my fashion icon. Today with the explosion of social
media all of us are mini fashion icons, and honestly I would like to think that I am designing for
these icons as they inspire me more than anything.
8. What is the plan for the new collection?
Our SS19 collection is bohemian goddess meets city girl. Everything in this collection is super colorful and playful; this season will also see the expansion of our handbags line to include
leather jackets and a capsule collection of super feminine dresses. My aesthetic is inspired from the silhouettes and style of the 60s and 70s, so as usual this collection will be artisanal, special and handmade yet effortless and beautiful.
9. Where we can find your bags in London (and abroad)?
In the UK you can get our products online at www.mayrafedane.com. Worldwide you can find
our products in luxury stores like Harvey Nichols Hong Kong, I.T. Hong Kong, Restir Japan,
Club21 Thailand, Robinsons Dubai and the list goes on.
10. Lastly, is there anything you're currently working on? Any exciting plans or projects to be
revealed?
The biggest project that we are working on currently besides our SS19 collection is the launch
of our website. There are many exciting mini projects that we are going to launch exclusive to
our website. This is a big undertaking and we are very excited to venture in this e-commerce
arena.