Stemming from the adjective "holistic," Olistic The Label strives to connect humans and earth in very unique ways. Those ways incorporate clothing made from certified organic fibers such as organic peace silk, wood fibers, and upcycled leather.
The earthly brand was founded in 2018 and refined the timeless look by mixing romantic silhouettes with a boho-chic twist. The French brand promotes elegance, adventure, and luxury in every stitch.
Olistic The Label is not just a label as it also strives to empower women in India and preserving handmade embroideries in Portugal. Mess Magazine sat down with the designer and founder of Olistic, Camille Jaillant to find out exactly how this nature-inspired brand got its start.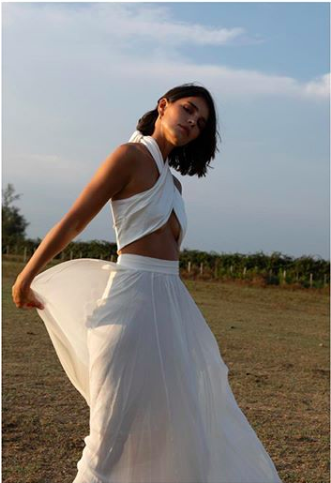 What is the meaning and inspiration behind the name, Olistic?
Inspired by the 4 elements, Olistic The Label explores the connection between human beings and the Earth. Olistic is inspired by the adjective "holistic" means encompassing the whole of a thing, and not just the part. For me, it's a totality where everything is interconnected and has its importance. Being Olistic is to come back to the source, where human beings share a deep connection with the Earth. This name is for me the definition of sustainable fashion. All the supply chain is controlled and respect people and the environment. It's like a circle, a harmony between the elements. Holi is also the name for the Hindu festival of love in India. This festival signifies the arrival of spring, blossoming of love, share, laugh, forgive and enjoy life. I wanted to have this sonority in my brand name because India will always be a great source of inspiration, especially with organic peace silk, a key material in the collection.
What was the driving force behind the brand?
I went to India for a few months to meet artisans and discover traditional know-how. I saw a woman and for a few seconds, it was like we understood each other. When I meet her eyes, it was impossible for me to come back to the industry I knew. I needed to find meaning in my work, understanding my purpose in life. I couldn't close my eyes and avoid the truth that pollutes way too much in the fashion industry. During this unique journey, I found in love with these artisans and the peace silk tradition. I wanted to empower these women and preserving their unique skills and heritage! It was a gut feeling, I needed to empower these women by supporting the organic sericulture, and handmade works. The idea of creating an ethical and fashionable brand stuck in my head. What drives me is definitely my passion for sustainable fashion. I wanted to create a positive impact through products that make sense and living a life that is true to my core values.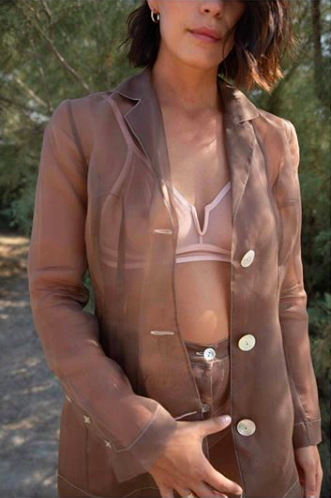 How important do you think sustainability is in fashion?
Sustainable luxury has never been so BIG today and it is TIME! We have to realize the massive impact the industry creates on the environment and people. In a crazy world of climate change, poverty, child labor, and pollution- How can we do differently? Maybe being all naked but I am not sure it will work. The fashion world is completely changing and evolving toward sustainability. Within Olistic, we integrate sustainable development goals from United Nations in all our actions such as SDG 8 Decent work and economic growth, SDG 10 Reduced inequalities, SDG 12 Responsible consumption and production, SDG 13 Climate action and SDG 17 Partnership for goal. From the United Nations Alliance in Kenya and Climate summit in New York, I am glad to have participated in these important meetings where all the actors of the industry are engaged for sustainability. It's so nice to know that by wearing a garment you will participate in a better fashion that creates a positive social impact on communities.
How can people start making eco-friendly decisions when it comes to their style?
Starting to have timeless and elegant pieces that you will keep for a long time! If you would like to buy new pieces, choose organic, recycled or upcycled fashion. I can promise you that it can change the whole face of the industry. We have also treasure in second-hand stores! I believe we can all make BIG changes if our actions are in line with our values. Olistic The Label will soon propose to recycle Olistic pieces after use. We will create a new fiber from these recycled silks. We will have a fiber circularity and nothing will be thrown away.
What is one thing you want people to know about Olistic?
Our evening collection is made with 100% organic fibers such as peace silk (certified GOTS), and wood fibers. We also propose upcycling exclusive collection made with luxury fabrics leftovers. We refuse the use of synthetics that pollute our oceans and lands. Natural and biodegradable, all the materials we used come back to their origin.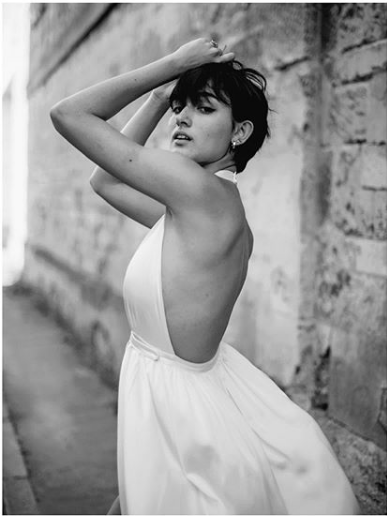 How do you want Olistic to redefine the fashion industry?
The brand was born from the desire to create both durable and elegant dresses. We don't want to choose between aesthetics and sustainability. We believe it's possible to change the industry and propose minimalist, timeless and elegant pieces that you keep for a long time. Based on biomimicry, our collection is made out of 100% natural, organic and biodegradable fibers. Our peace silk comes from Indian organic sericulture where we preserve traditional know-how and skills. By supporting artisans, we empower women, help them to get financially independent and free. For us, being a fashion brand today is to create a positive social impact and minimize environmental impact. We would like to prove that it is possible to create fashionable and sustainable evening gowns ethically made. We would like to become the reference as evening sustainable brand and to inspire the young generation to choose better. We would like to slow the fashion industry and come back to what really matters. Human & Earth.
How and why was Olistic created?
Olistic The Label was founded in Paris in 2018 with an Australian investor. After working for luxury houses such as Louis Vuitton, Chloé, Prada and Isabel Marant, I wanted to come back to the source and meet the artisans behind fashion products. I was pretty shocked of what I saw in India from toxic dyes, pollution to child labor and it definitely changes the way I see fashion today. When I came back to France, I couldn't find at that time a fashion brand that inspire me and who were 100% sustainable from the origin. After my travels, I felt the desire to protect our planet and limit our fashion impact. I created Olistic The Label because I wanted to propose a collection combining both aesthetics and sustainability. Creating this organic label was evidence for me.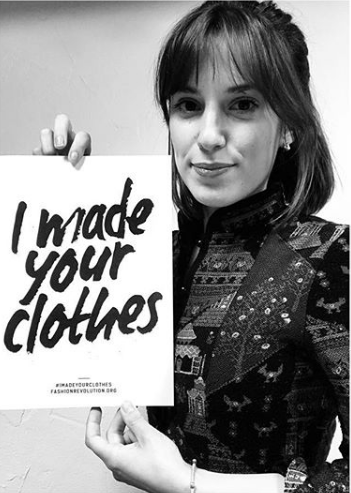 Any exciting projects coming up?
In a few weeks, we will do fundraising to grow the team and open our first Olistic store. We already have an Australian investor you support our work from the beginning and now we are ready to integrate new investors on board. We planned to open the Parisian boutique in 2021 with exclusive pieces. We are now working on a new collection made with upcycling fabrics and wood fibers. We will continue our fight for sustainable fashion next to the United Nations Fashion alliance.
Click here for more information on Olistic The Label and follow their Instagram page for exciting updates and breathtaking looks: @olisticthelabel.