International Fashion Week, Amsterdam cemented the city as an emerging cultural melting pot, hosting designers and other creatives hailing from ten different countries- Ghana, Pakistan, Czech Republic, USA, the Netherlands, Belgium, France, Morocco, UK, and Canada.
In February 2015, The Netherlands Enterprise Agency and The Embassy of the Kingdom of Netherlands subsidized the funding for the Ghana Design Network. It's conception signaled Ghana's intent to stimulate a better creative eco-system in the country. Amsterdam remains steadfast in it's mission to strengthen relations between itself and Ghana within the creative sector. This year, International Fashion Week, Amsterdam welcomed fourteen established Ghanaian designers to the fore, affording them exposure to the international world of fashion and design, as well as an opportunity to reach global recognition. Saturday, March 9th, saw Ghanaian designers open the show. Abstract African prints from the likes of Threaded Tribes graced the runway. Threaded Tribes designer Beatrice Mankatah showcased her cloaks with styles and patterns reminiscent of the relaxed Ghanaian smock. In one look, the cloak is transformed into a chic dress, with a chunky black and gold belt cinching the model's waist, rendering traditional African dress a modern twist.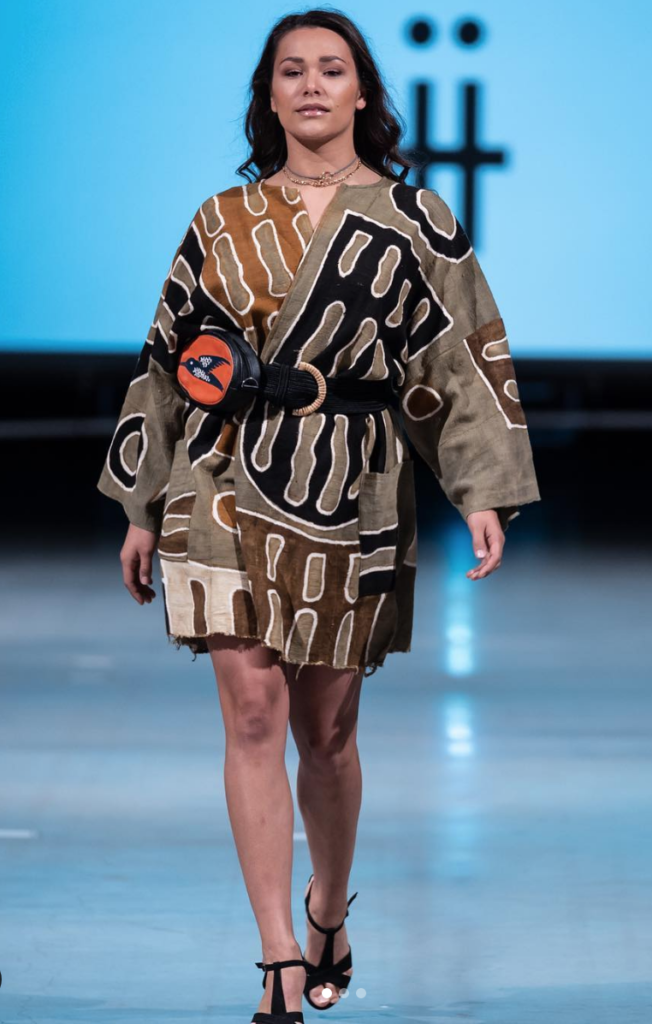 Josh Birchjones proves budding creative talent is immune to age. The English prodigy launched his label, Designed by Josh, at a mere thirteen-years-old. The bespoke womenswear designer specializes in refined, glamorous pieces that can easily transform from day to night wear. With a keen attention to clothes, Josh drew inspiration from his mother's elegant closet, claiming to sit in front of it, referencing various forms and embellishments, while sketching designs as a child. Titled "Sweet Dreams," Josh's collection of couture gowns dazzled the runway. His designs varied from the simplified elegance of a gold dress tantalized with a high slit down the thigh to a strapless scarlet gown burgeoning with ruffled tiers. Although young, Josh is a fashion force to be reckoned with, garnering international respect and solidifying a distinct vision as a young adolescent.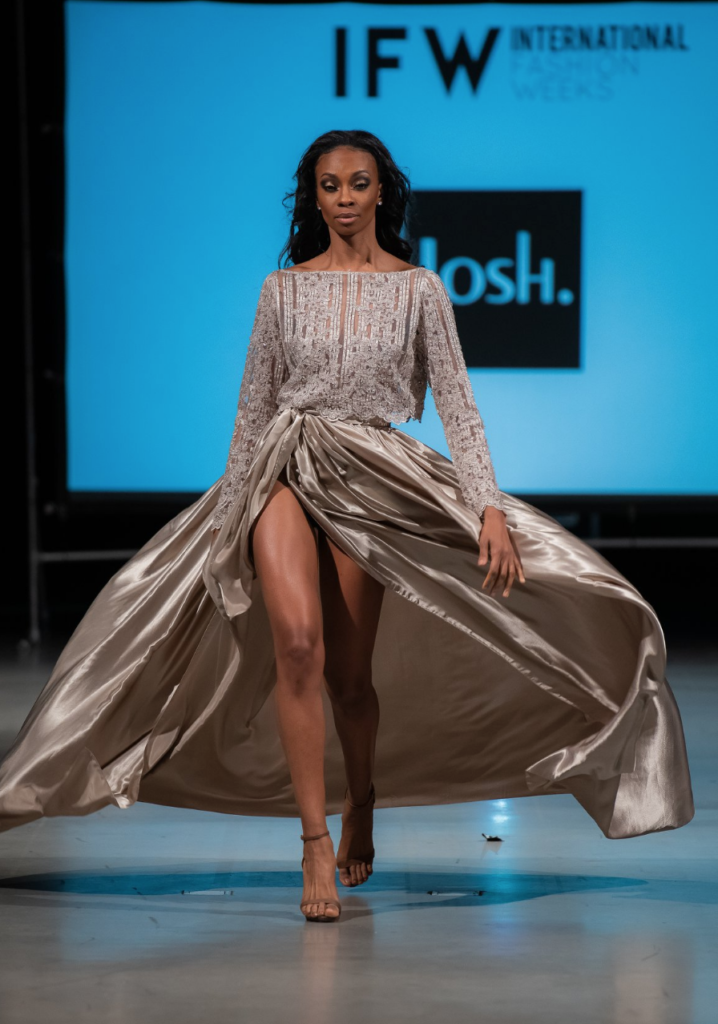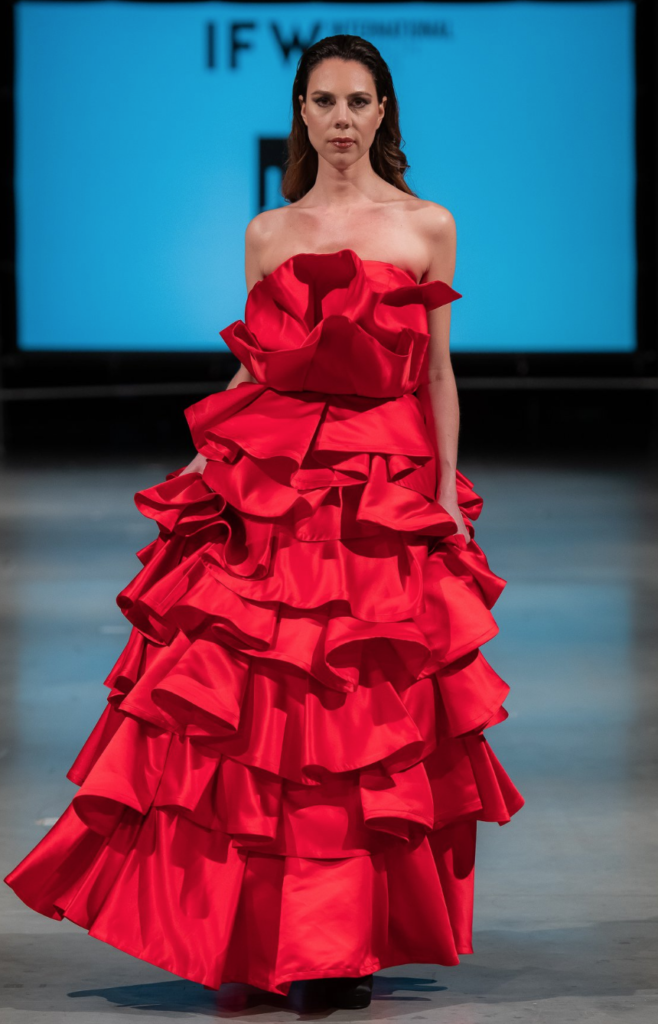 Dutch designer, Omar Munie, proves no dream is unreachable. In 1994, at nine-years-old, Omar fled the catastrophic civil war inflicting his native country, Somalia, and settled in the Netherlands where he later endeavored breaking into the fashion industry. Today, Omar is widely recognized as a leading handbag designer, with the likes of Hilary Clinton and Oprah Winfrey toting his bags. Omar perfected the delicate balance between functionality and fashion, with his creations offering the wearer both style and utility. Omar maintains a sustainable practice in his atelier, utilizing recycled materials like leather or old fishing nets in the construction of his handbags. At International Fashion Week, Amsterdam, Omar showcased a variety bags with stark shapes in earthy tones. He coupled his fashion show with a group dance. The models convened on stage wearing black tape with white script over their mouths. The inscriptions proclaimed gender, racial, or sexual identities, to name a few. The dance and show celebrated diversity and acceptance, tenets of Omar's fashion house.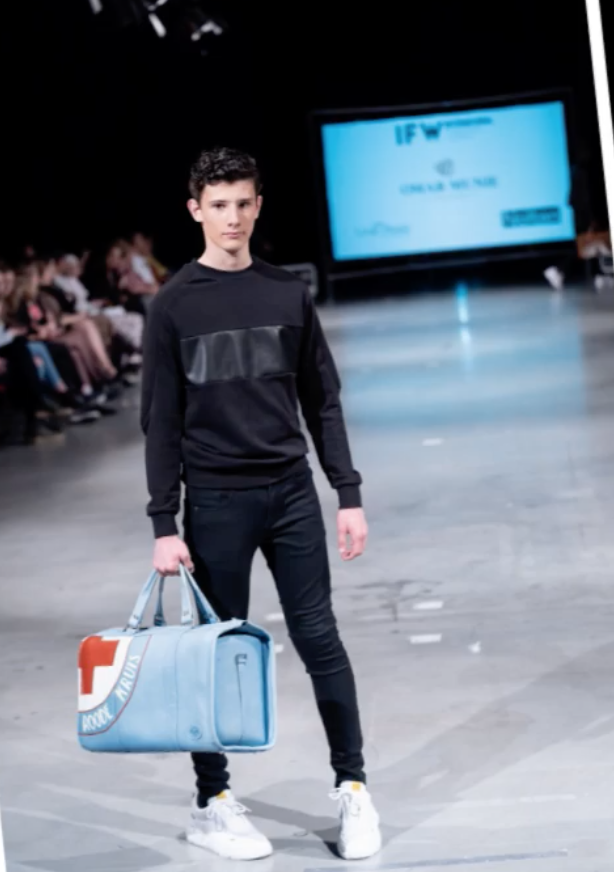 Canadian designer Dalayne Dixon's collection left a subversive yet intriguing sentiment, blending edgy, rocker and romantic inspirations. Dixon juxtaposed fabrics like tulle, vinyl, and faux fur in dark and metallic hues to create eclectic looks. Following her graduation from The Art Institute of Vancouver in 2012, Dixon opened her eponymous label. Dixon's mission is to empower women to step out of societal bounds and into their own skin, or a second skin designed by Dixon herself! Dressing in a Dixon design seems to ignite a fire in the wearer, thus the clothing becomes analogous to the woman's inner badass, a side all us ladies have.
Issam Balaloui, designer of Wachma Couture, is lauded as one of the most prominent designers in Morocco, and his influence is beginning to cross borders as well. Issam's residence was split between the United States and Morocco. Thus, a manifold of cultural inspirations informs his designs. Issam showcased his SS19 collection at the International Fashion Week, Amsterdam. The collection consists of modern, androgynous pieces with punk oddities and Moroccan flairs. For example, the collection featured a refined, asymmetrical blazer dress with thin black and red stripes and beaded necklaces, an ode to the Moroccan aesthetic. The intermingling between colorful Moroccan-inspired jewelry and sophisticated suit tailoring is representative of the duality Issam experienced growing up.
Bahar Aydin of Millasu brought her debut collection to International Fashion Week, Amsterdam. Aydin is a lawyer turned fashion designer hellbent on dressing the luxurious and graceful women of today. Inspired to make a change in her own life, she fashions her creations to ensure that women can strut with an aura of confidence, elegance, and appeal that radiates from within and reflects the incandescence of her sparkling designs.