With trends in fashion changing at more of a rapid pace than ever, fashion stylists are becoming more and more in demand; for runway shows, art direction and even music video assistance.
Rushka Bergman, Jason Rembert and Joseph Cassell are just some of the top named stylists of 2015 who cater to international stars such as Nicki Minaj and Taylor Swift; but what about stylists who unveil their styling talents on social media?
Social media has created a platform for many people to share their work, personal life and network with other hundreds and in some cases thousands and if used sensibly; can be a very beneficial marketing tool.
I speak with Jennifer McKing, a London based fashion stylist who is fast approaching almost 10,000 followers on Instagram. Known for her risky image and ever changing hairstyles- I ask her about her evolving style, opinions on originality, interning for Vivienne Westwood and current projects she will be working on.
Check out the interview below just to see why everyone is following Jennifer:
Hey Jennifer, thanks for taking part in the interview…How would you define your individual style and how did you get into styling?
I can never define my style because I feel like my style changes up all the time. It all comes down to how I feel on the day I'm going out, I can be a 90s vintage queen one day then another day; I'll dress completely opposite like, a bit more trendy. Unlike many people that have hopped onto styling because  it's cool I got into styling back when I was 14 years of age. I used to intern at Vivienne Westwood head office back then and they trained me up haha so from there I just carried on doing my thing.

In an age where anyone deems to be a stylist, do you feel you deliver any individual qualities that set you apart?

Of course, I don't care about big labels for one. My eye is more attracted to items that look super dope and it might not be in trend but I always prefer to start trends instead of following them all the time. So when I'm styling it will be original and I am a creative person in general and I try to add a bit of my nerdy, arty ways into my fashion *laughs*, so if I'm not inspired by the latest trends I'm getting inspired by some sort of art and I'll try to incorporate that in what I'm styling.

I love your 90s aesthetic, you tend to wear a lot of ripped jeans, with a cool vest top or shirt… what is it about the 90s style that you love so much?

I actually did a blog post a while back about this, my parents were fashion icons in my eyes back in the 90s my dad was a fashion OG back then seeing their photos and style back then amazed me so much! They were so cool and original so I had to carry it on, *laughs*. Back when I was growing up my parents use to throw house parties a lot and their friends would come dressed all stylish and the vibe was so cool. We still have videos of them; when I watch them back I get inspired by the style and the culture back in the 90s. Everyone was so free and original and nobody cared they looked Jiggy as hell and hand no clue, I find that amazing. So yes, in a sense I have taken some inspiration from that time and kind of incorporated it with in my own style.

So let's talk more about styling…is there anything in particular you feel that a budding stylist should be able to do particularly well?

Don't hold back, be yourself and don't be afraid to share your ideas. I don't really take it seriously, I have fun with it; styling should be fun !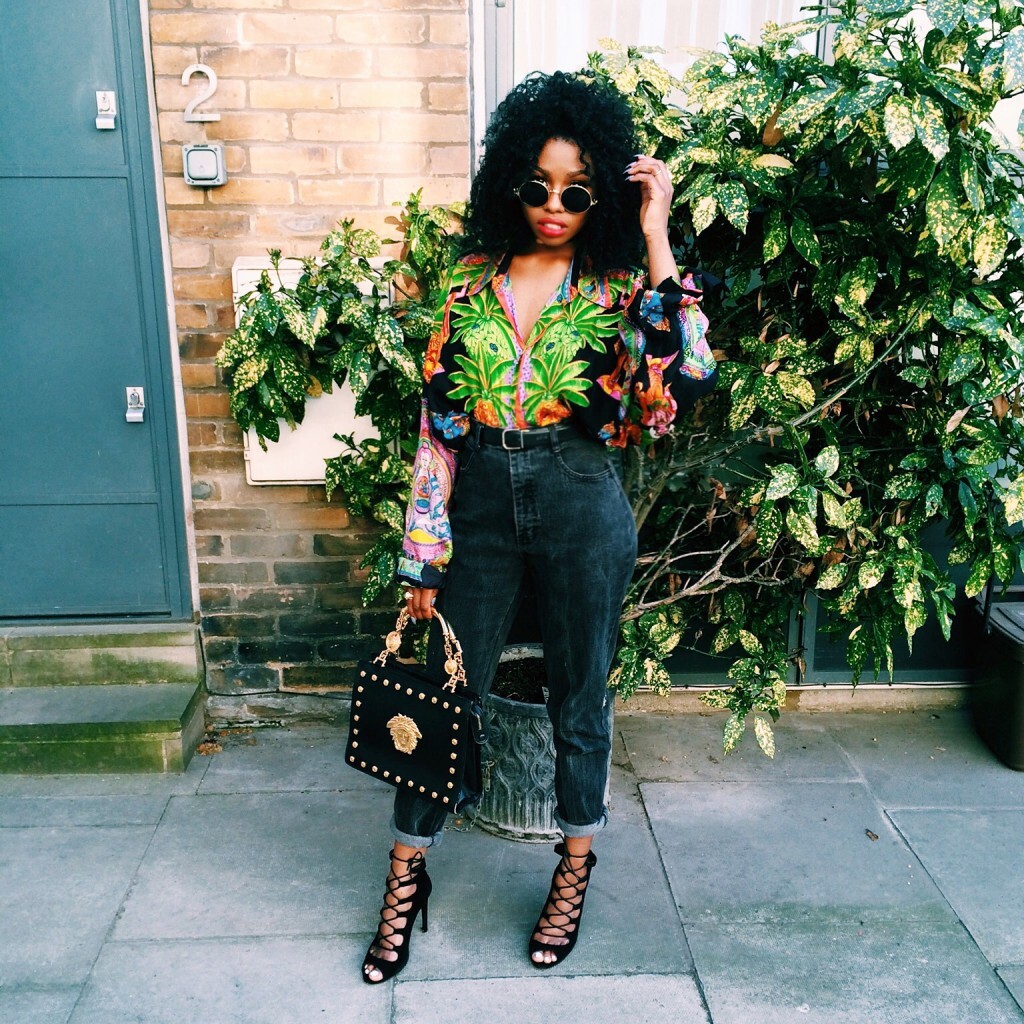 Is originality important you when it comes to your style?

YES! One of the things I rant and rave about is the fact that everyone looks the same to me, there is a very few amount of original people in this day and age. Being able to come up with something original is the best thing ever. For example; like the lace up heels that have been trending this year- I used to scroll down my Instgaram and would see females rocking it with a 'Kim K' -type outfit and nobody was trying to be different! So I bought the heels and rocked them in my own way and everyone seemed to love it, my caption was "How to rock these heels without a Kim K outfit". I Decided to write that because I was so tired of seeing unoriginal people. So, yes being original is highly important; be a trend setter, not a follower!
Have you had the opportunity to attend any cool fashion events or assist at any interesting shoots that you can share with our readers?

No shows yet I've been traveling so much this year, but I know this upcoming fashion week will be crazy for me. I'm also working on my own Youtube styling page so hopefully that will be up soon, so look out for that.
Where do you tend to shop?

Everywhere literally; everyone that knows me would probably say that I'm a vintage junkie shop, Lol!
Okay so here's a scenario, you have only £100 to spend on a shopping trip in 30 mins; where are you going and what do you buy?
East End Vintage Shop! For sure.

Top 5 fashion inspirations?
Gianni Versace, Balmain, Dsquared2 an upcoming designer called Christian Cowans and Rhianna!
You can follow Jennifer and her styling journey on Instagram: @jennifermcking and on Twitter: @Omgitsjennifer