It was electric and free; a time of true exploration without explanation. That is what the decade of the 1970s was. It erupted a catalytic fury, brought on by the change of the 1960's and the continuous search for identity. But more importantly, the 1970's was a time that seemed to belong to the young.
With the emergence of youth, came the desire to be expressive and to be free. Teens began to break free of their conformities and began to believe in the power of self-expression. They saw the potential in equality and freedom and thus dressed to match. Designs, in particular prints, were more radical than ever and clothing began to step away from its gender-defining role. Garments like flared or 'bell bottom' pants, tunics, pantsuits, leisure suits, and overalls, were all prominent trends of the time.
So how did fashion play an important role in the rise and exposure of equality and power? The power suit and all of its glory, is predominantly known for shaping the 1980's, however the first of its kind came to in the 1970's. Up until the 1970's, pantsuits were not the norm, but over time women began to realise that they too desired styles that provided more comfort and practicality. Designers embraced this demand for more practical daywear with an added feminine touch. Yves Saint Laurent was one of many designers who led the way, as evident with the labels Le Smoking suit. He made women sexy without over sexualising them and he was able to create something where style and comfort were used in the same sentence- not easily and often done, even today. The suit was an image of empowerment. It pioneered minimalistic and androgynous styles for women.
Whilst these women opted for the power of a pant, there were many who continued with the freedom of a skirt. The flowing and free nature of light kaftan's, maxi dresses and flares provided the blank canvas for the psychedelic prints that these individuals embodied. The colours and shapes were loud and bold, endorsing the spiritual lives they chose to live.
But now that sense of freedom, equality and power is starting to make it's way back into our decade, especially for women. More and more women are starting to express themselves, freely and individually. Public campaigns, like #freethenipple, are an example of how women are getting back to basics and embracing the comfort and practicality the 70's embodied. Look around and it's hard not to see the influx of the 70's vibe, popular films like 'Diary Of A Teenage Girl' embrace and strengthen the image of young girls embracing their independence and sexuality.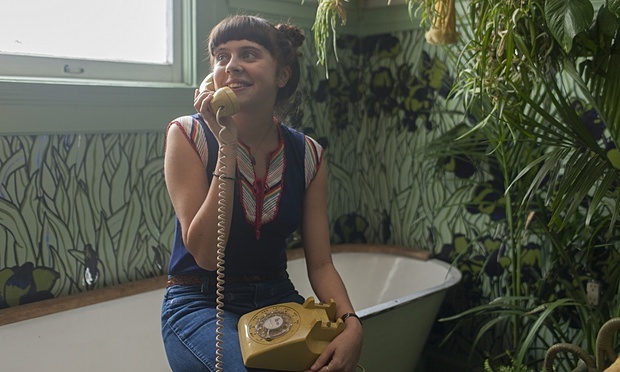 Yet how does this transcribe into fashion? How are designers inspiring individualism and expression? It's interesting to see how designers take the foundations and mould them to their ideals. Roberto Cavalli's Spring 2015 Ready-to-Wear is a great testament to this. The influence is subtle, but it is a true modern take on how a ferocious and free spirit would dress today. The styles are flowing; the collection opens with billowing maxi dresses in bold and colour-blocked prints. Orange is paired with blue, tones of pink with green. The prints were powerful, never losing and only making you want more. Closer up we see the intricacies of the designs- pleated fabrics add to the psychedelic illusion.
Then we have a designer like Alberta Ferretti, whose Spring 2015 Ready-to-Wear paid homage to a Joni Mitchell like fantasy. Whimsical and romantic, white mousseline gowns, appliquéd with feathers and with fringes trailing to the floor, lined the catwalk. Nude, beige and lilac tones helped accentuate the 'gauzy romance' feel. Spirited and free, the collection reflected the young bohemian Joni Mitchell once was. Whilst you get lost in this 70's dream crafted by Ferretti, take a moment to appreciate the garment details and hand-sewn applique.
The 1970's were a time of exploration and having no inhibitions. This freedom is what we aim to embody now. Whilst we may not have the same motivations as that decade, the commonality is that we also believe in our power and ourselves. This is why the 1970's are so inspiring and a time I wish I could have seen.