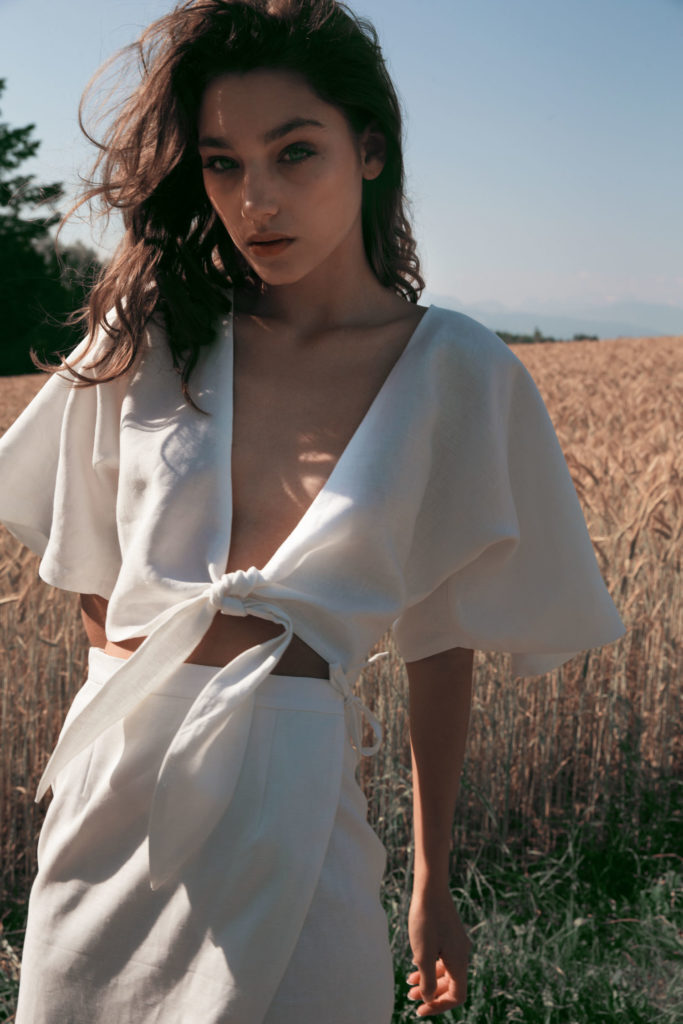 Imagine creative fashion concepts that ALSO use vegan and recycled materials and are made ethically? Rising brand SANIKAI is an expert in this capacity. Founded in 2015 by husband and wife Kai and Sanaz Wasser, the brand strives to promote a positive and caring attitude towards the natural world. After noticing an empty niche in the market for sustainable clothing, the couple decided to find quality environmentally-friendly materials for their own brand, and worked hard to do so. In her interview, Sanaz describes the inspiration and process of creating her unique brand:
What is the inspiration for creating your brand?
I was 29 when I decided to quit my well-paid job in the advertising industry to study design. This was around the year 2010, and at that time in my life I already shifted to a more conscious and sustainable lifestyle and realized that there weren't many environmentally and animal-friendly yet also ethical and of course fashionable brands available. The reason I decided to study fashion design was so that I could create my own cloth.
During my examination phase-and just for fun, I created a Facebook and an Instagram account and uploaded pictures of pieces for my diploma. Almost instantly, I got order requests from all over the world. The feedback was incredible, and it led to my and my husband's decision to bring SANIKAI to life and turn it into a business reality.
How come you picked the name SANIKAI?
SANIKAI is a play on words. My name is Sanaz and my husband's name is Kai. He tremendously supported me during my exam time and relieved me of any additional pressure. To integrate his name in my diploma thesis was my way of saying thank you. The name stuck with us and we truly liked it. So we decided to keep it when we founded the brand.
Did you and your husband work in the fashion industry previously, and if so, in what capacity?
No, not at all. I worked in advertising for many years. Kai is a process-engineer and is responsible for the technical and business-oriented part.
Did you create your brand with a team or on your own?
Kai and I created the label on our own. However, we recently started to expand our core team because we've been growing. We focus on proactive team members who participate and take action. 
What hurdles did you need to overcome as entrepreneurs?
To be frank, many. But the hurdles have changed throughout the journey. At the beginning the sourcing was a big and sometimes barely possible mission. Materials and opportunities were almost non-existent. Today, there's a wide and diverse range of products and more and more suppliers of fabrics and materials focus on sustainable innovations. Of course, as entrepreneurs, there are additional hurdles, such as self-discipline and resilience which require both a good sense of self-criticism and confidence. There's no one else to measure your work and give you feedback, so it's crucial to question every single work. However, it is important to simultaneously compliment and motivate yourself so you stay confident. Moreover, each collection's success can vary so it's important to stay down-to-earth, yet not give up if we didn't receive as many compliments. There's always another season ahead of us.
How long did it take for SANIKAI to become successful?
It's not easy to give a simple response to this question. My upbringing influenced my view of success. See, I was raised by very strict parents and my father put a lot of emphasis on the best grade. The second-best was never good enough. SANIKAI has not yet reached my demands and goals but if you ask me how much effort it takes instead of how long, I can say, it took a lot and needs a little more.
How do you incorporate ethics into the production of your clothing?
We manufacture in Switzerland at a training center, which educates up to 60 students. This guarantees a short supply route and keeps our ecological footprint as low as possible. At the same time, we support a local business and are part of young people's education. We also try to avoid unnecessary material and fabric consumption. And of course, we only work with certified organic or recycled materials.
Has it ever been difficult to locate production resources that are environmentally friendly/vegan?
Yes, it was indeed. At the beginning between 2010 – 2015 it was actually very difficult. Prices as well as minimum purchase quantity for ethically produced materials were unrealistically high. However, In the last four years things have changed enormously for the better.
Who is your target market segment?
Our target customer lives consciously and places great value on quality and timeless designs which are simple but still elegant and unique. She is confident and embraces cuts, proportions and colors. She knows her favorite pieces, which she combines well for various occasions and loves to wear and appreciate for many years.
How do you market to this segment?
In the beginning we were driven only by an ideology and the desire to be part of a positive movement. Profitability has not been our priority for a long time. As a result, we have grown organically for the last four years. Nevertheless, we are also aware that we have benefited from social media and were able to reach our segment outside Switzerland.
What was the most fulfilling aspect of creating your own brand?
The creation of my own brand itself brought of course flexible working hours. Before the twins were born I was a night owl and was always grumpy in the morning. I'm still grumpy sometimes but very thankful to adjust my work to my everyday life. Beyond that, every time I see that our clothes fit our customers perfectly, or when I suddenly see someone walking past me wearing SANIKAI, I consider it rewarding. For instance, I spotted a friend of mine during the summer holidays wearing a two-piece from our first collection. These are fulfilling and priceless moments.
What are your future goals for SANIKAI?
Currently, we aim to work with the Women's Cooperative of Marrakech to allow their talents to flow into our pieces. Moreover, we plan to launch a small accessories line in collaboration with other designers and artisans of North Africa. And finally, we're going to be at Paris Fashion Week this September 2019 and will show our latest collection in a showroom in the Marais district.