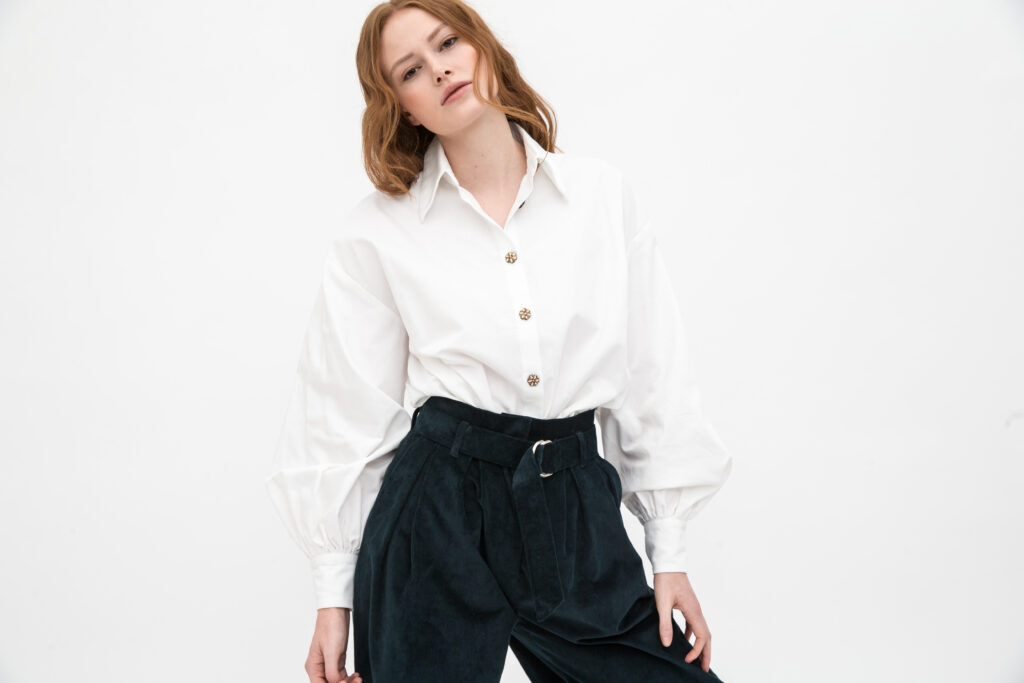 Hello Sanaz!
It's great to follow up with you. We hear that you're planning to launch an Agency for Corporate Innovation. What can you tell us about this new agency?
Thank you, the pleasure is all mine. Together with my partner, we established an agency for business innovation. It's about specific sustainable solutions for small and medium-sized companies that are courageous and strive for an unusual but very innovative way to step out of line. However, the focus is always on the product or service, the customer segment as well as the employees.
How would you summarize SANIKAI's philosophy?
Ethics and esthetics are equal principles. They belong together and always go hand in hand. We do business in an ethical manner and treat all partners and those involved in our value and production chain as equals.
What does "ethical fashion" mean at SANIKAI?
We started as a completely vegan but also very sustainable clothing brand that produces exclusively locally and transports all materials by land and not by air. In the second year, we decided to have a small non-vegan winter collection and to produce each garment only on demand by retailers and end customers. In 2017 we also decided to give up the stock, which has many advantages. Especially, during the pandemic, this strategy has proven its worth.
What tips can you give costumers about shopping sustainable?
Don't buy new clothes. There are many sustainable options such as the exchange of garments, to borrow or upcycle an older piece. And if you want to buy something new, I recommend supporting local designers who are aware of their responsibility as designers.
What inspires your designs?
Brave mavericks who defy any kind of resistance and go their own way always inspired me. Or in other words, individualists or very strong personalities. And to let my creativity flow I need regular quiet moments but also active exchange with my team and other inspiring people who share with me a co-working studio.
Who do you design for? What does your typical costumer look like?
It's difficult to describe a specific customer. However, we're always surprised by the motivation with which our end customers approach us. What they all have in common, is the high esteem for textiles, the craftsmanship behind it, and the preference for statement pieces that are timeless and maybe need some courage to wear it. Our customers do not think much of trends and mass production. High quality and personal customer service are equally important characteristics of SANIKAI.
What is your brand's greatest achievement since founded in 2015?
SANIKAI was only 3 years old when I became pregnant with our twins. For the first two years after I gave birth I played both roles without interruption. Being a mother and owner of a sustainable and ethical fashion label. My husband and a business partner spent the last 2.5 years doing an additional Bachelor's degree. I was pretty much on my own. When I look back, I'm especially proud of my family and myself. Everyone had to bite the
bullet so that family and career could go hand in hand. And that despite all the travel that is needed in the fashion industry. To name some official achievements, we won the PETA Vegan Fashion Award as best designers in 2016, 2017 we were invited to SHIC Shanghai as the first vegan fashion brand to present our collection at the show, and in 2019 we were invited by Helsinki Fashion Week to present our summer collection 2020. However, what I rarely reveal is that I receive almost daily applications from very talented students or graduates from all over the world. From Japan to India to Canada. For me, that is the most beautiful compliment.
We don't usually associate Switzerland with fashion. What does the fashion scene or culture look like in Zurich?
The Swiss fashion scene certainly still has great potential. How the fashion scene establishes and presents itself in a country has to do with the mentality and temperament of the respective culture. In cities like Zurich, Basel and Geneva live many individualists and courageous people. People from all over the world. You can see and feel the multicultural vibes, and therefore, if you take a closer look, you will find a wide range of fashionable folks. But clearly, Swiss people could be a little more courageous in autumn and winter. This applies to cut and especially to colors. But I would like to take this opportunity to emphasize that Switzerland enjoys a great international reputation in terms of materials and workmanship. Big brands still buy silk or haute couture fabrics from Switzerland. We also have high-quality and innovative materials in terms of functional clothing
In what ways has COVID-19 affected the way you produce or present your collections?
In the past, we launched two collections per year. Simply explained: We were the chefs who decided what menu was served. Already before the pandemic, we had decided to stop working in the traditional retail channel. Even within Switzerland, we noticed that in each region a different style or a special color was more demanded. Therefore and especially if you want to sell internationally, it's sensible to work out the collections or colors with each partner individually.
As an example, for our customers in Dubai, there is no need for an autumn/winter collection, the colors may be loud and gaudy, the cuts subtle but also slightly daring. In addition to this, there is the question of whether we want to reach the local women, ex-pats, or tourists. For our clientele in Northern Europe, warmer styles and of course knitwear are in demand. In New York, the cuts and prints are also loud and fancy. So, you can see that it makes more sense to design and produce specific and according to the respective needs. There are several reasons why we decided to take a more innovative but also a more elaborate approach:
– We already work according to the "Made to order" principle, and can therefore individualize retail orders.
– We empower our trade partners to have a say in design and colors because they know their customer-base and current demand best.
– Such an approach creates diversity within our trading partners. Especially, in a small country like Switzerland, it's sensible because we would like to work together with all sustainable concept stores. However, each store wants to stay exclusive and because they don't have the same product range, the inhibition threshold with regard to competition disappears. Consequently, our trade partners who know and like each other work hand in hand to meet the demand of our customers. This creates wonderful solidarity and cooperation instead of working against each other.
– Since our trading partners have a say in the cut and design, the storage risk for them is also minimized.
Long story short: We already changed our production behavior before COVID-19, and therefore, didn't have to adapt much to the new normality.
How do you predict COVID-19 will impact the fashion industry?
What can we expect next from SANIKAI?
I believe true appreciation will come back and handcraft will become valuable again. New subcultures will emerge and consumer behavior currently experiences a slowdown. Hard times and maybe even poverty has been experienced by most people in their own circles. For people in economically healthy countries, these factors are no longer utopian, but rather concrete. The good thing is that a collective rethinking with more empathy is emerging. Nevertheless, I also know that with every movement a counter-movement follows. Many work steps are now automated and artificial intelligence has gained a firm place in the industry and certainly brings along positive as well as negative aspects. Either way, the fashion industry will reinvent itself and this needs time and space to emerge, to fail, and to grow. We have to make mistakes first in order to perfect it later.
For cooperation with retailers, we decided to design other products rather than clothes. As a made to order brand, we have the privilege, instead of desperately minimizing our existing stock, to work on new ideas without time and money pressure. For some time now I work with an illustrator to publish a book about the value of our textiles. My goal is, to create a product that supports our trading partners in regaining greater sales. In other words, a product that won't be affected by purchase decisions such as cut, suitable color, material preference, and budget. A book is free of such decision steps and conveys understanding. More specifically, it will deal with the biodiversity of naturally renewable raw materials. And I presume that after the pandemic many things will be digitalized and automated, so, therefore, a physical book that imparts valuable knowledge and is easier to sell than clothes is an enrichment for my trading partners, but also for schools and everyone interested in ethics and sustainability in the textile industry.
Thank you for letting the Mess team chat with you. We look forward to following SANIKAI in all your future projects.