www.facebook.com/pulse.of.glory/
www.notjustalabel.com/designer/pulse-of-glory

Pulse of the glory seems to be a very sophisticated and engaging name of the brand, what does it represent and embody?
We wanted to direct your attention inside yourself to the pulsation of your heart, which knows the answers to all assigned tasks and will whisper how to turn a game that we call "life" into an exclusive adventure. On the other side, we strongly believe that glory is in the hands of labor, so we would like to encourage to give full measure and be a rockstar whatever you do.
I have noticed that the symbol of your brand is a mongoose, how does it reflect the mission of the fashion brand?
Mongoose is the only animal which is able to defeat a cobra, despite the fact that it is quite small and cute. It symbolizes a victory over any challenge even if it seems to be impossible. No matter how small you feel next to barriers and problems, because sometimes you actually don't know your capabilities. So it is quite close to our attitude- doing our best and making some kind of magic.
You have dedicated one of your recent print designs to such a busy and urban city: London, what moves you and inspires so much about this place that made you chose it?
It is so unbelievable how in one city can be mixed up love for a vintage and a punk style. On one street you can see a gorgeous lady wearing a Chanel vintage costume and girls with a blue hair in grunge style shoes, but they both are looking so organically and stylish. With a London bridge on the background and smell of bakery in the air, all this, makes a perfect composition which really inspires. Besides, London is a multicultural city and this reflects our international team spirit.
I believe that this design is exclusively handmade and the print is hand painted on the garment. What technique have you applied to achieve such high result and what made you decide to hand paint it instead of printing?
We use batik technique, that means acrylic hand painting on fabric (usually it is a high quality chiffon). Actually it's a pretty complicated process. Firstly, we make a graphic project on a computer to see how it will look like. Afterwards, we do pattern cutting, later create the painting (it is the most long stage in this process, because sometimes it can last more than a week depends on how intricate the drawing is) and only then, the garment can be sewn.
We decided to produce only high quality apparel to give our clients comfort and strong pleasure from wearing. In some ways we are guided by Edith Head, who told: ''You can have anything you want in life if you dress for it''. So, one of our tasks, is to monitor the quality of our outfits. Unfortunately, prints can be damaged with time, because of the laundry for example. But our painted garments can be washed without damage and please you for a very long time. So we consciously chose a more difficult path.
You are working on a new Pre Fall collection which is very different to your previous designs. What made you focus on a sportswear this time?
Every person has a set of different qualities and that what makes a personality. You are not just black or white, you have various shades. It means that you can wake up in the morning and decide that today, you want to be a lady and you wear aristocratic costume or dress. The next day, you can have a sport mood, so you chose something casual or urban. That's why we like to invent something new for any occasions.
What fabrics are you using for your new 2016 Pre Fall collection?
We have chosen shimmering silver and white leather, cotton also with glitter effect. The idea was to combine a sport style with non-sport fabric. This way, you can also wear it even for the evening events.
This collection is very high quality made. Will it be exclusive and hand made as the previous one?
Yes, we are planning to add some hand paint dresses, blouses and t-shirts. This time, it will be dedicated to Paris and Moulin Rouge thematic.              
As a young rising designer what challenges you have faced so far and what did you do to overcome them?
Probably the capital. You need to find the funds to start your clothing line. You might have a hard time convincing investors to participate financially in your brand or you can try to earn your own capital working somewhere else. Both variants are quite challenging. You also must get ready to work day and night, because on the first stage, many tasks you might resolve on your own (if you don't have investor or manager) nobody will care as you do. Also, looking for good and reliable people who could help you to manage the production of your designs might also be a challenging experience.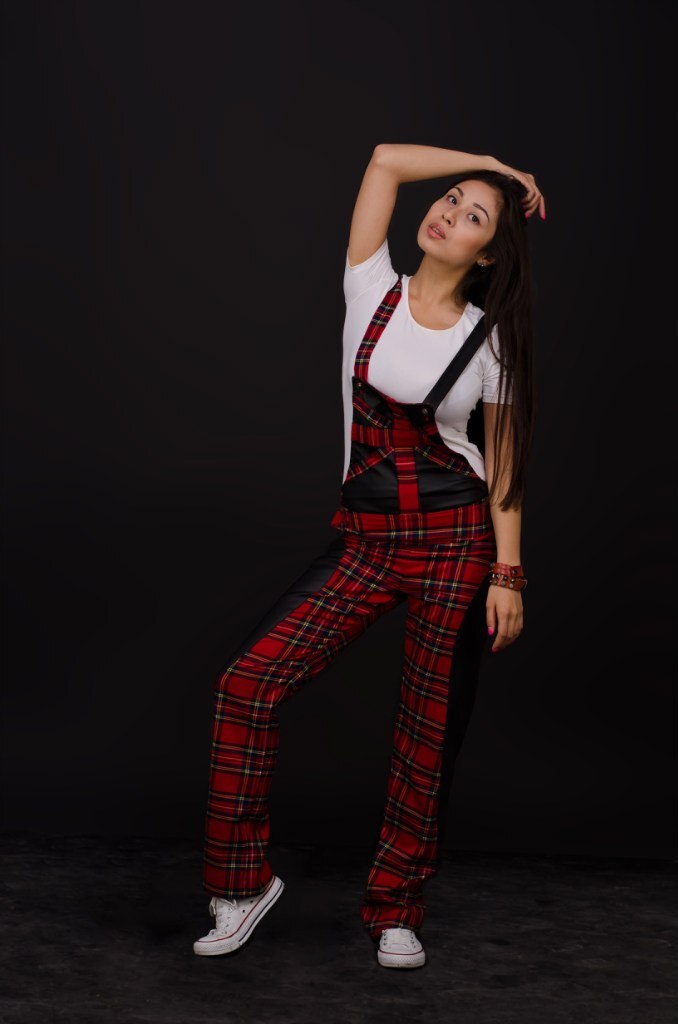 I believe that every form of art is a way of communication, language in a way. Would you agree on that? And if you do what is that you are saying as a designer to the world through your clothing?
Absolutely yes, art connect people all over the world. Fashion is a part of culture, some kind of art that can tell you about the mentality, history of a certain nationality. So, fashion designer has an opportunity not only to make this world brighter, but to share his experience or experience of whole nation which can be expressed in his creations.
By creating a collection you can tell a story which can inspire millions of people no matter what nationality they are, you can appeal to those, who live on the other side of the planet. That makes some connection between us. With a help of fashion we can better understand different culture that will make international relations closer, which is a good way to maintain peace in the world.
That is why, in our designs we like to mix different cultures, invite models different nations to connect different worlds, to remind that we are one, no matter which language do we speak. Fashion is international language.
Our job is to help you to exercise your individuality and originality, free from the shackles of everyday life and daily chains. After all, fashion is able to inspire, make life more colorful, reveal our true personalities, creative potential and provide energy for further achievements.