The pandemic makes it so difficult for us to stay inspired creatively. However, fashion designer Christoph Ritter uses the lockdown period as a platform to reach out to other designers and talents, collaborating with them to indulge in various creative projects. Christoph's initiative and passion is an absolute inspiration: something we all need during this dreadful pandemic.
Christoph Ritter Studio has recently released the SS21 'Al(ly)ien' collection, which was developed throughout the COVID-19 pandemic, thanks to the 'incredible worldwide digital collaborations'. It pays homage to the vibrancy of the nightlife that we all miss. In this exclusive interview, I introduce Christoph Ritter's SS21 'Al(ly)lien' collection as well as the talented designer's personal philosophies and contemplation on fashion, along with useful words of advice and encouragement dedicated to fellow designers or artists who may be going through creative blocks during lockdowns.
On the SS21: Al(ly)ien Collection
I asked you for this interview because I was captivated by your recent SS21 collection. Please share with us briefly about the project!
A: Al(ly)ien is a collection developed during the COVID pandemic – in total IRL solitude but through incredible worldwide digital collaborations. It is about filling the emptiness of lockdown with fantasy, colour and fun.
I found the name of your collection 'Al(ly)ien' very interesting. I love it!
A: The naming comes from the dichotomy of collaboration and appropriation of foreign cultures and experiences. I, as a white male European, got to work with people from Ghana, India, Jamaica, and many more. A lot of fashion designers and artists are not aware of the damage that blatant cultural appropriation in their designs causes in this world. On the other hand, white European culture seems to have become boring and meaningless to fashion and pop culture. So, for me, the question became, how can we stop appropriating the alienesque appeal we find in references from all over the world and become allies and share our privilege with others? The idea that there are so many incredible creatives out there that do not have access to the four cities that the fashion industry revolves around because of borders and immigration issues is insane to me.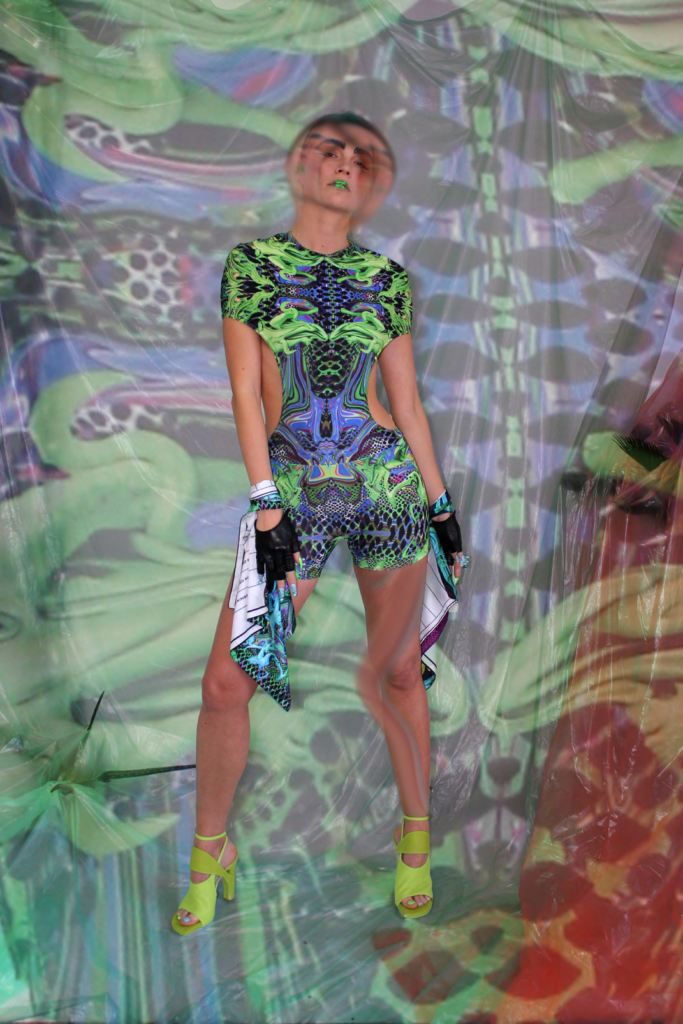 The collection displays beautifully vivid colours! Can you share with us a bit more on the colour story of the collection?
A: Originally, Christoph Ritter Studio began as a sustainable club wear brand. Unfortunately, thanks to Corona, there is no more clubbing. The colours come from the merging of lights you would see on a night out and animals that inspired a lot of alien movies such as insects and octopuses. The idea was to bring the club experience to people at home.
You described your 'Al(ly)ien' collection as the 'first pandemic fashion collection built from limitations and expansive collaboration'. What was it like working on this collection during the chaos of the pandemic and how did it affect your collaborative efforts?
A: It was extremely rewarding to be forced to work with strangers. In fashion education, you are constantly pushed to examine yourself and become the centerpiece of your creation. I believe this is why fashion has become such an egocentric and damaging industry. I learned to make my fashion about the amazing people I am blessed to meet every day, especially POC, Trans, and Non-binary people.
I'm sure that every single piece in this collection is precious to you, but if you had to choose a few favourites, what would they be and why?
A: I think I would choose the embellished corset top. It took 2 months and many many hands to finish this piece. I wanted to create a couture piece entirely out of discarded materials. I used snippets of fabrics that are too small to use for anything as a basis and then embellished it with discarded beads and crystals. In my mind, I wanted to shame the likes of high-end brands for not being able to include upcycling in their Haute Couture shows. Up-cycling is the future of fashion and they are sleeping right through it.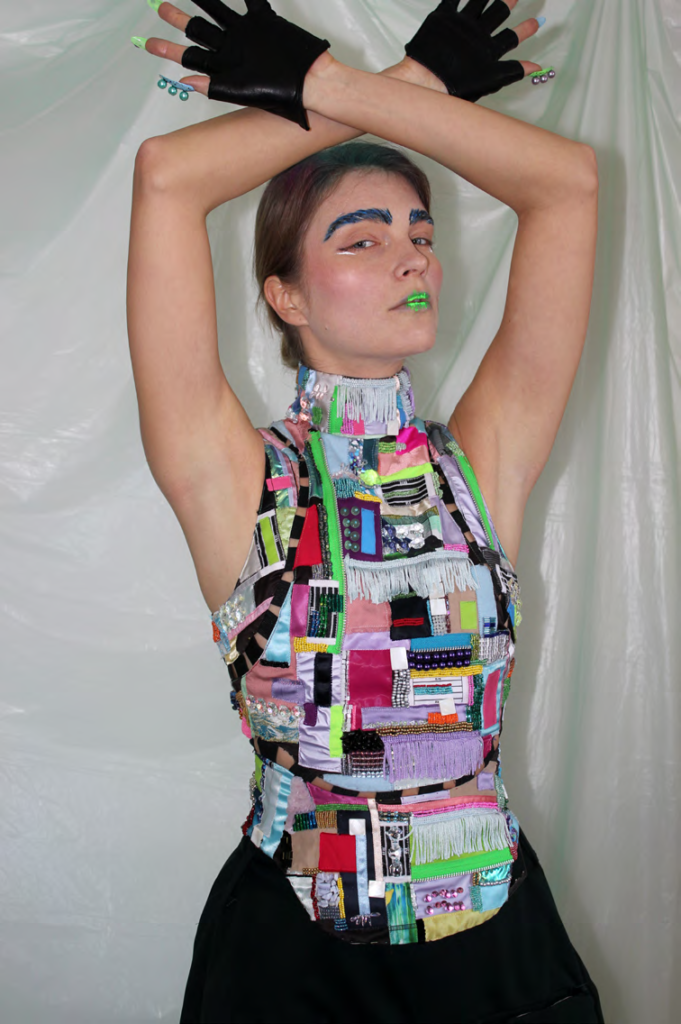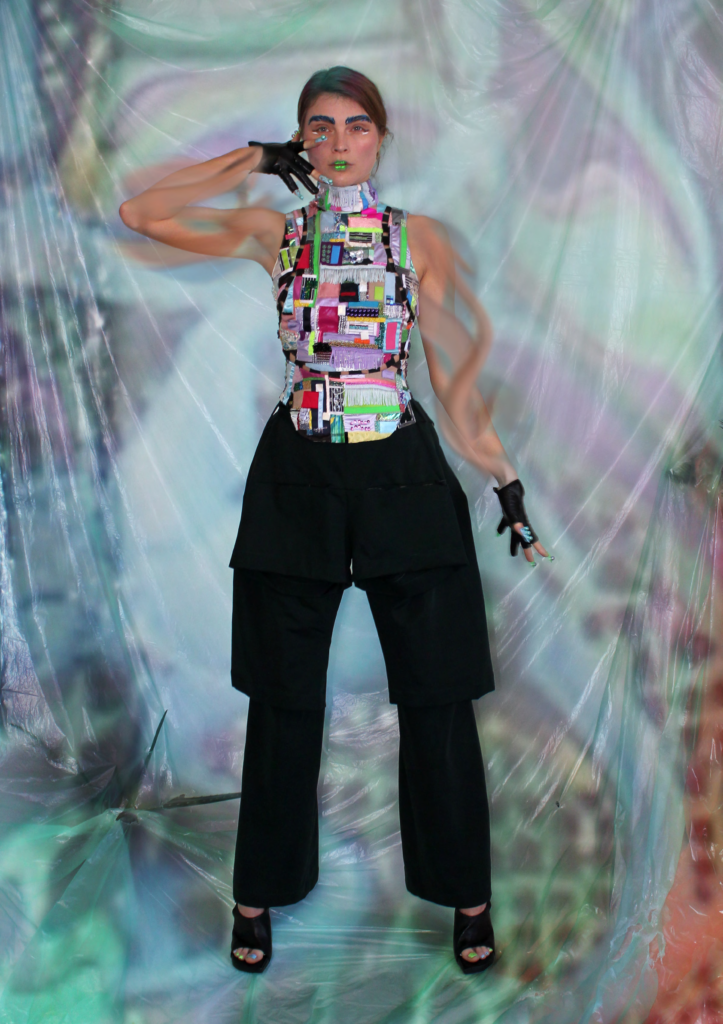 The Fashion Designer: Christoph Ritter
What about fashion designing appeals to you? What is so attractive about it?
A: I love the fact that it is about people and I love people. The idea that you are communicating so much to others through your clothes before you can even open your mouth is amazing to me. You cannot remove yourself from fashion: even not wearing clothes is fashion.
Who or what are your main sources of inspiration?
A: My main source of inspiration are people in my life in combination with people I admire from a distance, whom I hopefully will never meet so that I will not have to accept that they are human too.
What is your fashion philosophy? Do you think there are good and bad designers?
A: My philosophy is that fashion is a tool for whatever you want to use it for. I want to use it to clean up and save the planet by using waste as a material for glamour. Yes, there are many great designers and probably more bad designers. What worries me most though is how many of the great ones waste away their talent by working for these old conservative and toxic fashion houses instead of helping to rebuild the fashion industry as a whole.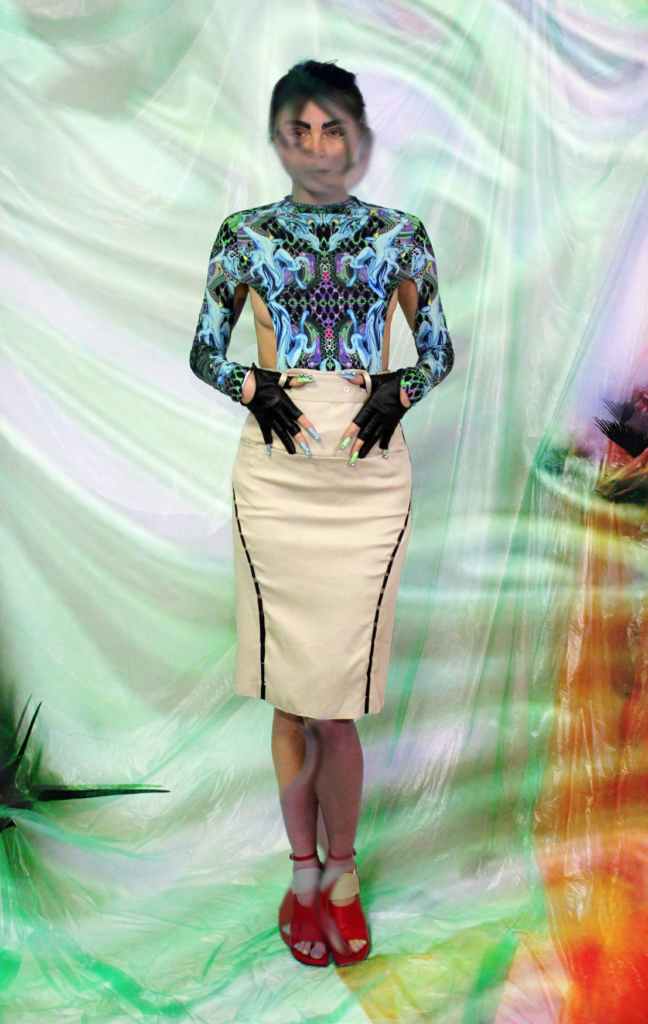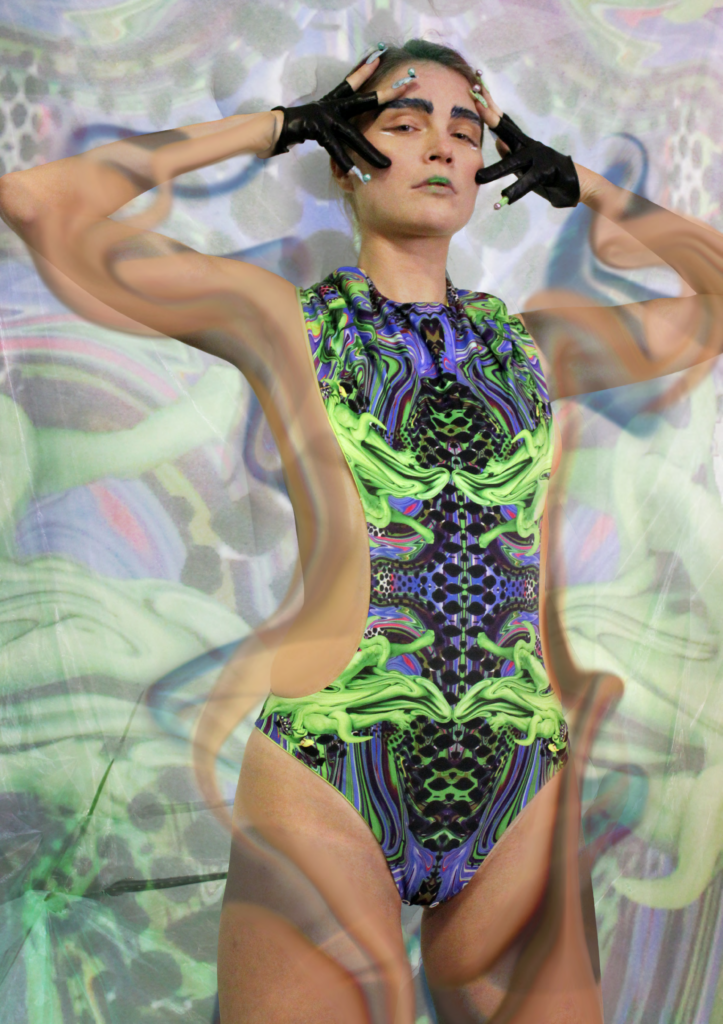 If you are comfortable sharing, please tell us a bit about the process of designing clothes, from the brainstorming stage to fitting your clothes onto the models for the press release.
A: My process normally starts by seeing something intriguing and then convincing myself that I could improve it, whether it is a technique, a construction, or a process. I love engineering garments and fitting them on people in my life. I believe that 99% of people are wearing clothes that limit their full creative potential so putting them into something colourful and expressive and forcing them to see themselves in a different context is really exciting. Attitude is everything and you can wear wild prints to an office job – I want to replace the black uniform office suit for good.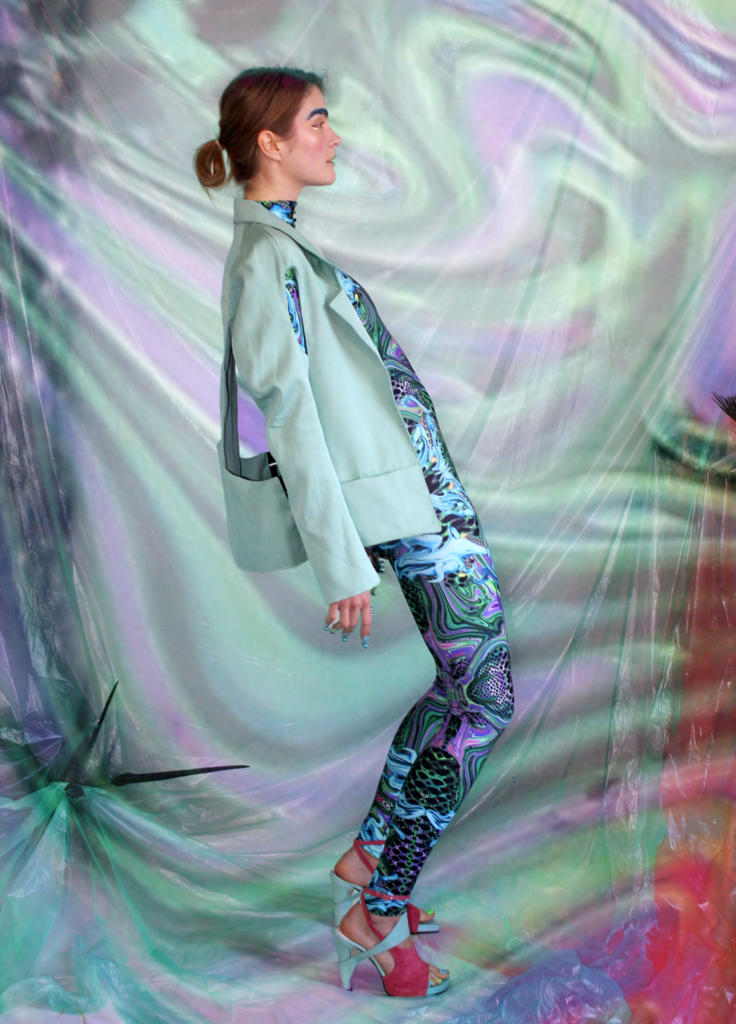 As a fashion designer, what is the most difficult setback to overcome? How do you go about dealing with this?
A: Constant rejection. You have to understand that you cannot cater to everyone and that most people will not be able to relate to what you do. That doesn't mean that they are bad people. I love talking about embarrassing and humiliating experiences because it takes that sting off. If you openly share things that bother you with people around you, you can move on more easily and make some meaningful connections along the way.
Christoph Ritter's Creative Endeavours
What other creative endeavors do you engage with, other than fashion design?
A: To be honest fashion consumes most of my life. I often imagine being a dancer because the way they express emotions and creativity through movement is incredible to me.
And what is so appealing about that specific field?
A: Performance in general is a great way to communicate and interact with the world around us. The art of using your body as a vehicle for creative exchange is so beautiful because it is so closely connected to life and age. It only exists in the moment you perform, it dies the very same moment though. It's magic.
What does it offer you that fashion designing cannot?
A: I am mostly a happy spectator but what it does allow is to exist in the now. Fashion is such a time-distorting field. At every stage you are dealing with 3 different collections – the one you are selling, the one you are promoting, and the one you are designing, the latter which you will share with the world half a year later.
Are you working on any other creative or fashion-related projects currently?
A: I always collaborate with other creatives from various fields. At the moment I am working with Jacob Morgan an artist/designer, who developed this AI software that generates prints and textures by itself, which is mind-blowing to me. I am working really closely with my friend Ludwig Meslet, who has his own production company called Yellow Belt Productions. He is a creative powerhouse, who shows me so much about the world of film and performance and has produced the fashion film for my latest collection.
Would you let me interview you again when it launches? 🙂
A: Of course! Any time any place xoxo
So many of our readers, I believe, are finding it increasingly difficult to be inspired and remain creative during the pandemic. What is your advice?
A: Cancel your Netflix subscription and reach out to strangers. It is so rewarding to connect with people from all over the world and realize that as a community, we are so much more powerful and greater than we could ever be as individuals.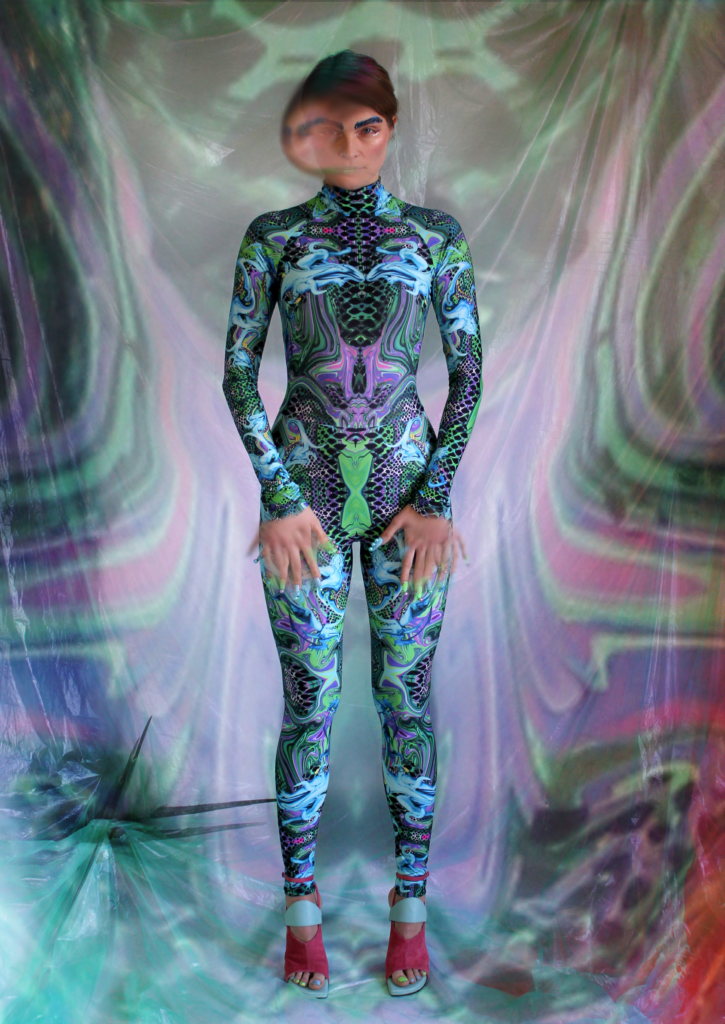 Images: Christoph Ritter Studio (@christophritterstudio/ https://www.christophritter.studio/al-ly-ien-spring-summer-2021)