1. Can you tell us what encouraged you to become fashion designer?
I am the youngest of seven children, three brothers and three sisters, all of which who are very academic. One is a lawyer, another is a linguist, and a third worked for Ralph Lauren until she moved to telecommunications. This was the result of a sort of upbringing where academics were considered to be very important, so I never really thought of fashion as a serious profession. It was only when I was 15 and took photography in high school I started making clothes for my models that my inclination to fashion reignited. I knew from that moment that this was something that I wanted to do but struggled with whether or not this was something that I could make a serious profession with. It was always the thought that was in the back of my head. When I was 18 I enrolled myself into a fashion college in Toronto and finished with no prospects of a design job that I was hoping for. I thought about giving up and then in 1999 I opened a copy of Vogue and read about Central Saint Martins where great designers such as Stella McCartney, Alexander McQueen, and John Galliano all had attended. From that moment on I decided to follow their path. Three and half weeks later I was in London studying at Saint Martins. Since then I have never looked back.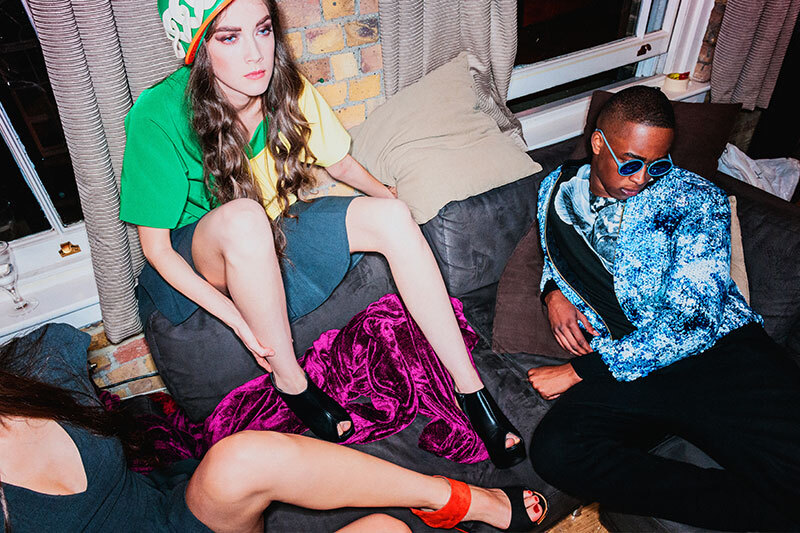 ETHOLOGIE SS 2014 LOOKBOOK
2. Do you think that being successful in fashion industry is hard?
I do not think being successful in the fashion industry is hard rather it is maintaining success and striving for success that is hard. It is a matter of having longevity in your success. It is a serious industry so one must take it seriously. For example, Karl Lagerfeld is in constant pursuit of perfection and he is one of the most successful people in the industry. He is never happy with his work but he keeps striving to be his best. Success is a matter of evolving, especially in this industry because it can easily be taken away from you. Coco Chanel put it best when she said, "In order to be irreplaceable one must always be different."
3. What would you advise for young designers who want to show off themselves?
Confidence is always key. Be knowledgeable of your craft and always pursue to acquire more knowledge. One must be able to speak the language of fashion not just create. As a designer you must always be true to yourself and never someone else; that is the first law of fashion. I would advise that you know your strengths and weaknesses because sometimes what we believe to be a weakness is actually a strength. Not everyone will always understand you but it is your responsibility to be understood. Have patience because it takes time to get noticed. You have to do the work and persevere.
4. What was the main inspiration to create your latest SS15 collection?
The resort collection by Jasper Garvida for Éthologie is inspired by the angles and shades of our world's architecture exploring reflection through metallic detailing. Based on a monochrome colour palette, the collection takes a trip back to the 60s with leopard print panelling and a minimalistic design.
5. Which artists influenced you the most?
I would have to say Salvador Dali. I hated him at first but then I began to admire his idea of the subconscious where we use our minds to see beyond what we see. It is quite inspirational. To use ones imagination and create a story behind the most banal thing is what I practice when I design.
6.Who is your perfect client you'd love to dress?
There is no such thing as a perfect client but I love the challenges that each one brings. Like Picasso, I am a servant to women and an artist second. I find women fascinating. Each one has a different facet to them which is why I love my job, because everyone is an individual and everyone is a perfect client in the challenges they bring.
7. How that happened that you dressed superstars such as Lady GaGa, Katy Perry or Rihanna?
It is actually quite simple, their stylists contacted me asking for my work. They each had an event and needed an ensemble.
8. If you wouldn't be a fashion designer, you would be…
I will always be a fashion designer. I do not see myself doing anything else. It is as simple as that. While I am interested in food and cooking as well as art and painting, I will never see myself as anything other than a designer. I have slaved myself for fashion.
9. What are your future plans look like?
I am working on my diffusion line called "É" as well as my jewelry line called Allegorie.
10. What do you think of Mess Magazine?
I think Mess Magazine is great for the fashion industry. With so many new designers coming up in the market, it is helpful to have a publication that writes on the old and the new while still remaining current and on trend. Fashion is not just about clothing, there is always a story and Mess does a wonderful job of delivering it to the public.
11. What I should wish you?
Wish me longevity, success, health, and happiness. That is all a designer really desires.