Made in Zimbabwe, Haus of Stone is much more than aesthetic beauty. Danayi Madondo, the Creative Directer and Founder of slow fashion brand, Haus of Stone highlights the beauty and unique aspects of Zimbabwe through her collections. "One of the goals of my brand is to contribute towards telling multifaceted contemporary Zimbabwean narratives infused with heritage and cultural nuances," said Madondo.
Read below to discover what inspired award-winning designer Danayi Madondo to develop her brand, what makes Zimbabwean fashion so unique, and how the essence of Zimbabwe is beautifully captured in each garment.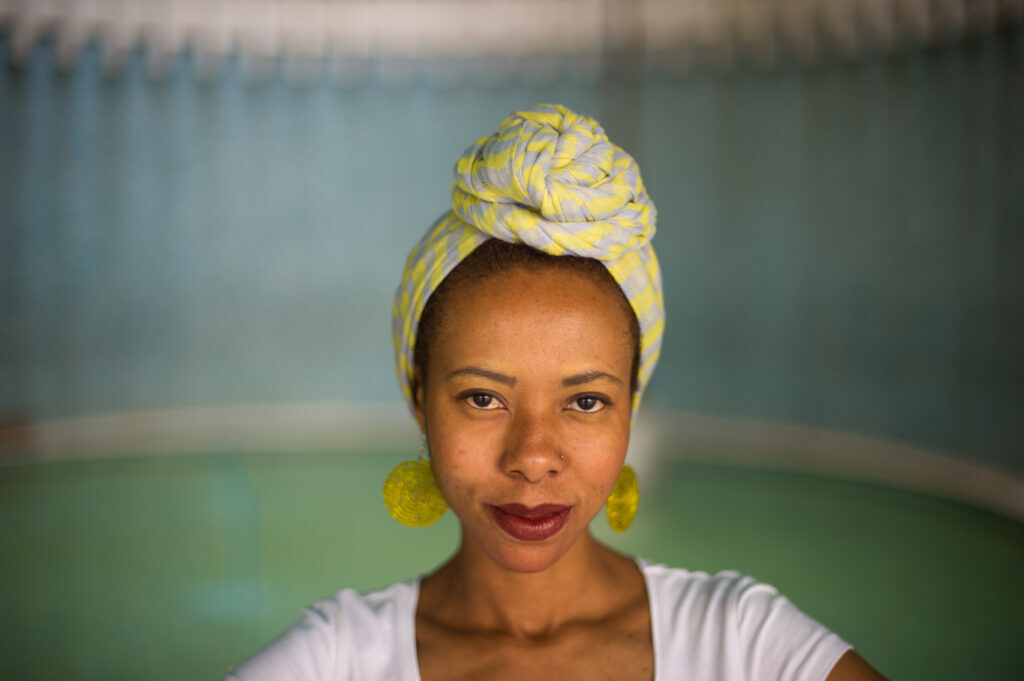 Can you tell us about your background and when you realized you wanted to be a designer?
I have a BA degree in Fashion Design from LISOF (Gauteng, South-Africa). I started my label in 2014, but I took a hiatus between 2016 – 2017 to re-brand and rethink my design processes & general business structures. I came back in 2018, with a brand new logo, aesthetic, structure & purpose.
I've always had an interest in fashion, but only considered it as a career path sometime between 2008/9. I came across a Nigerian designer – Deola Sagoe whose aesthetic was loud & apologetically African. Every model looked like a piece of art & I really thought this was something I could do. Being a black African girl from Zimbabwe, these aren't necessarily the go-to career options for us, people generally hold a low regard for people in the arts within my country, but hopefully that is starting to change.
What makes Zimbabwean fashion so special and unique?
For me it's our narratives and the handcraft ability of our local artisans which range from crochet, basket weaving, stone & wood sculpture. All these techniques when pulled upon can make for really unique & long lasting fashion pieces. Other countries also share these handcraft abilities, but each country executes it in it's own unique way and the meaning behind each craft/ technique is so specific to each group/ region, especially within Zimbabwe. A certain design is symbolic and representative of something more meaningful beyond it's aesthetic beauty.
How would you describe the Zimbabwean creative and fashion scene?
I would describe Zimbabwean creatives, as the creatives who 'do more with less'. I think due to the social-economical climate it has really forced a lot of us to really pull upon our limited resources and maximize on it which can sometimes produce really unique results, while maintaining a global appeal & standard. Zimbabweans are a resourceful & solution orientated type of people.
The Zimbabwean fashion scene has a long way to go, we're still a fetus. I think there is little understanding and appreciation of the role of a designer within our country. I think there is no entry level standard for one to be a designer, the barriers of entry are really low which has it's pro's & cons. Our country is highly informal and in need of a lot of areas to be formalized in order to protect the producer as well as the consumer. Our fashion industry is a fashion thesis in the making, complex, existing, yet barely there.
What is the meaning & inspiration behind the name, Haus of Stone?
Haus Of Stone was derived from the name "Zimbabwe", which comes from the Shona term 'dzimba dzamabwe', which means stone buildings. I wanted a name that was a representation of where I come from because I am proud of where I come from & I really want to represent my country through my fashion on an international level, because our stories matter too. One of the goals of my brand is to contribute towards telling multifaceted contemporary Zimbabwean narratives infused with heritage and cultural nuances, and I do this specifically through my visual narratives & campaigns.
I know that each collection is named after powerful, and admirable African women. What was the inspiration behind this idea?
For my Ode to Askana SS18/19 collection (direct translation 'Poem to the girls') – the narrative around that collection was basically paying homage to the woman that came before us that have paved the way for us to be where we stand today. It is also giving a massive thumbs up to woman who go through the turmoils of life and 'choose' to pick themselves up and
preserver over and over again – it speaks to our resilience. It seemed only appropriate to pull upon the energy of some powerful African woman that really overcome hurdles in ways that impacted communities in a positive way & we all have the capability of doing this at various levels within our own lives, we don't need to be Winnie Mandela to have impact, but we can call upon that same energy to impact even our family, friends, colleagues and so fourth.
What does sustainability mean to you?
Sustainability is quite complex and layered, but in summary, I would say it is leading a more thoughtful life in every aspect of the word – 'Intent Driven life', where the goal is to contribute to society in a way that is positive & long lasting.

How do you practice sustainability at Haus of Stone?
At Haus of Stone, we don't mass produce, we are considerate with the way in which we cut our designs & utilize off-cut fabrics. If I ever remain with apparel from a previous season, it is reconsidered into future collections via adaption or deconstruction. So in a sense you always see the remnant of the old in the new, but we approach it in a way that is tasteful, with the appeal of 'the new'.
We utilize deadstock fabric, although there is a lot of contention on deadstock fabrics whether or not it is truly sustainable. In Zimbabwe it is. During the economical decline we had several fabric mills that abruptly closed down leaving behind gorgeous fabrics which now sit in warehouses gathering dust and wasting away, it's better to put them to use than to waste a resource.
What was the idea behind Haus of Stone's documentary presented during Fashion Revolution week, The Therapy of Fashion: One garment, many hands?
Fashion Therapy is a two part project which includes a documentary and digital workshop. The documentary in summary explored the Fashion Open Studio 2020 creatives processes & inspirations that guide & influence our work. I collaborated with yoga and wellness instructor Tendai-angela Rokkones to explore concepts around craftsmanship with ones hands as a form of therapy, creative expression & emotional release.
It touched on my journey with Haus of stone, the evolution of the brand and our practices and how I utilize fashion as a vehicle to tell what I hope to be meaningful narratives reflective of my people at a certain time in space & a look at the people behind the brand from manufacture to storytelling that make it what it is. I think we really wanted to show people what you can do when you come together and collaborate.
The mission behind Fashion Conversation Zimbabwe?
Fashion Conversation Zimbabwe (#FashConvoZim) is a Haus of Stone CSR Program which was launched in 2016 to service a gap & need I felt my community needed. It's a space for creatives to come together and enter into open meaningful dialogues on various areas as a form of free learning exchange. We also are advocates for creative collaboration & expression through this platform, through cross-connecting of creatives spheres.
How have you been coping with the current Covid-19 pandemic?
It is definitely a challenging time to be a small business owner, I find we are in such a vulnerable space right now. However, I believe the thing that ultimately differentiates designers is the ability to create. It's one thing to have amazing ideas, but to be able to have amazing ideas and the ability to execute them as an individual says a lot.
During this season, I've been able to take on small bespoke jobs, as accessing my manufacture during lock down has been challenging, I've been able to start working on samples at my home studio, so things while in the stillness continue to move forward, obviously not at the same pace, but I have always believed that even slow progress is still progress.
What have you been doing to stay positive?
Creating, learning, reflecting & spending time to appreciate my blessings. It's a lot easier said than done, but sometimes a positive mindset take a lot of effort and intent. Sometimes to maintain ones sanity, intention must be placed in that area, plus I've also just been turning myself into a mini, Thai food chef on the side.

How do you think Covid-19 will impact the fashion industry?
2020: the year of the awakened consciousness.
Post Covid-19, I hope to see a major shift in mindset in both the fashion producer and consumer. To be resourceful and to think & work 'smart' as well as sustainably will be the call to action.
I think the concept of chasing a trend is definitely a way of life that will fall away and consumers will start to seek apparel that genuinely is a reflection of who they are and their lifestyle. A demand for functional and long lasting apparel will become something that I think consumers will begin to start considering before making purchases.
Time will be managed a lot more wisely as a resource once gone it cannot be returned.
Technology advancements will rapidly increase, and the mantra to life will be 'how can we do more with less', it all boils down to maximizing on our resources in a long lasting sustainable way.