For some, in fact most people, sport is what motivates them the most in life. When combined they make a stunning pair.
Today more than ever there has been a massive spotlight on the world of fitness and health. Whether this has been portrayed positively in health magazines or not is for one to decide; but when looking online at instagram's of those who live a healthy lifestyle they have attracted a large audience. Why exactly? It's a question we ask ourselves too, but it's one that is easily answered. The answer is that today people have really been taught/informed about the importance of leading a healthy lifestyle. Some wish to share it online in order to not only motivate others but themselves too! However, the importance of sport isn't only seen online but instantly you'll take notice of it when you step out of your door and roam the streets of a crowded city. Whether you spot people running in parks or heading to their daily yoga session, you always seem to cross paths with someone who is making the most of being young and healthy!
The word "young" may be misinterpreted, as sport and fashion really don't have any age. It's about wanting to feel good about you as well as looking good!
As mentioned beforehand, no matter at what age, whether you're 16 or 61, being active has so many benefits (both physically and mentally). For those of you who are still in education, playing a sport on a team can help build many friendships and it is also proven that teens that exercise regularly also attain higher grades. Everyday you learn something new exercise definitely increases ones quality of life, something that many aspire to. Let's be honest though, remaining committed is difficult but made easier with the possibility of looking good whilst working out!
For those of you who like to dress up for every occasion it is now possible to do so when playing sports too! Thankfully fashion designers have teamed up with world-renowned sporting houses to create the perfect balance between high fashion and everyday sportswear. We call it "sportluxe". Ever since the beginning anyone will tell you that when it comes to fashion there are quite literally no limits, likewise in sport. So why not combine the both together?
tennis-point.ch
Starting with sportswear being spotted at numerous Fashion Weeks worldwide. We have seen several sports items being worn throughout the hectic days whether it be in New York, Milan, Paris or London. London seemed to be the most daring to try out the new trend with Milan being the next to follow. A classic piece seen at Somerset House in London was without a doubt a trendy pair of trainers. From Adidas, Nike to Puma we spotted them all. Perhaps the fact that many run from show to show it was the main reason as to why sneakers have become so popular at events such as Fashion Week.
Bold coloured sports bras are undoubtedly another popular item amongst the likes of bloggers, regularly worn under a sheer white t-shirt to really have the bra being the star of the show in the most non-vulgar way possible.
These are only some examples of how sportswear can be worn and were spotted as street style in some of the world's major fashion capitals. On the other side of the spectrum are the individuals who spend the majority of their time playing a sport or training and today doing such things doesn't require you to dress so plainly! So many athletes are seen wearing bold sport attire and the reason is because they spend most days training hard so it's basically seen to be their uniform. It's not only professional athletes who have such a privilege to wear designer sportswear; it has become more or less affordable for the public who spend their days exercising too! What luck, right?! It only seems right for us to splash out on the things we use the most so if in your case it's sportswear why not train in the most fashionable yet comfortable way?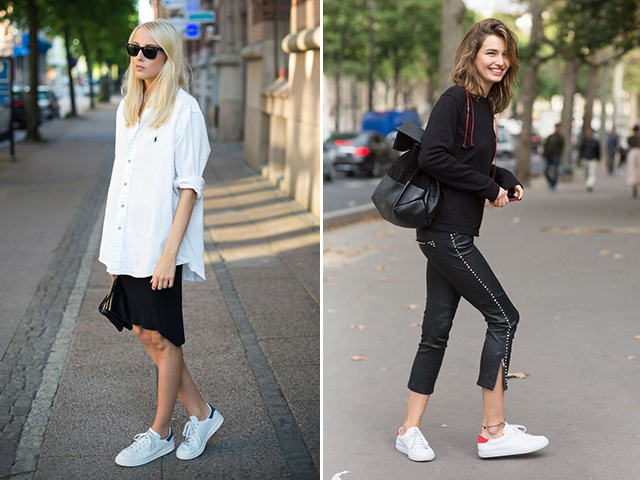 One of the most obvious examples is Stella McCartney's collaboration with Adidas. With Adidas having achieved much success after the complete re-launch of the classic 'Stan Smith' trainer, the collaboration with Stella McCartney only made the sportswear more desirable amongst not only athletes but also fashionistas all around the world! Stella McCartney's collection has graced the courts of Wimbledon with numerous world-renowned sport icons such as Maria Kirilenko wearing stunning tennis sets from the collection. Quite evidently we can see why! There is such diversity in the collection; there is truly something for everyone! Whether you're a woman who wants a more classy and elegant look or someone who is looking to stand out from the crowd, Stella McCartney has it all! Classic whites or bold prints there really are a choice for every personality!
Recently Greek fashion designer Mary Katrantzou has teamed up with Adidas and has created a capsule showing off her iconic prints! This is not the first time Mary Katrantzou has collaborated with the world-renowned sports brand and after her first being a major success; this year Adidas bring us her second collab with the label. With Adidas still projecting a very iconic 80's vibe, this capsule collection will bring an innovative twist in comparison to Stella McCartney's collaboration! One, which I am sure, we will spot during the streets of fashion week coming up in September!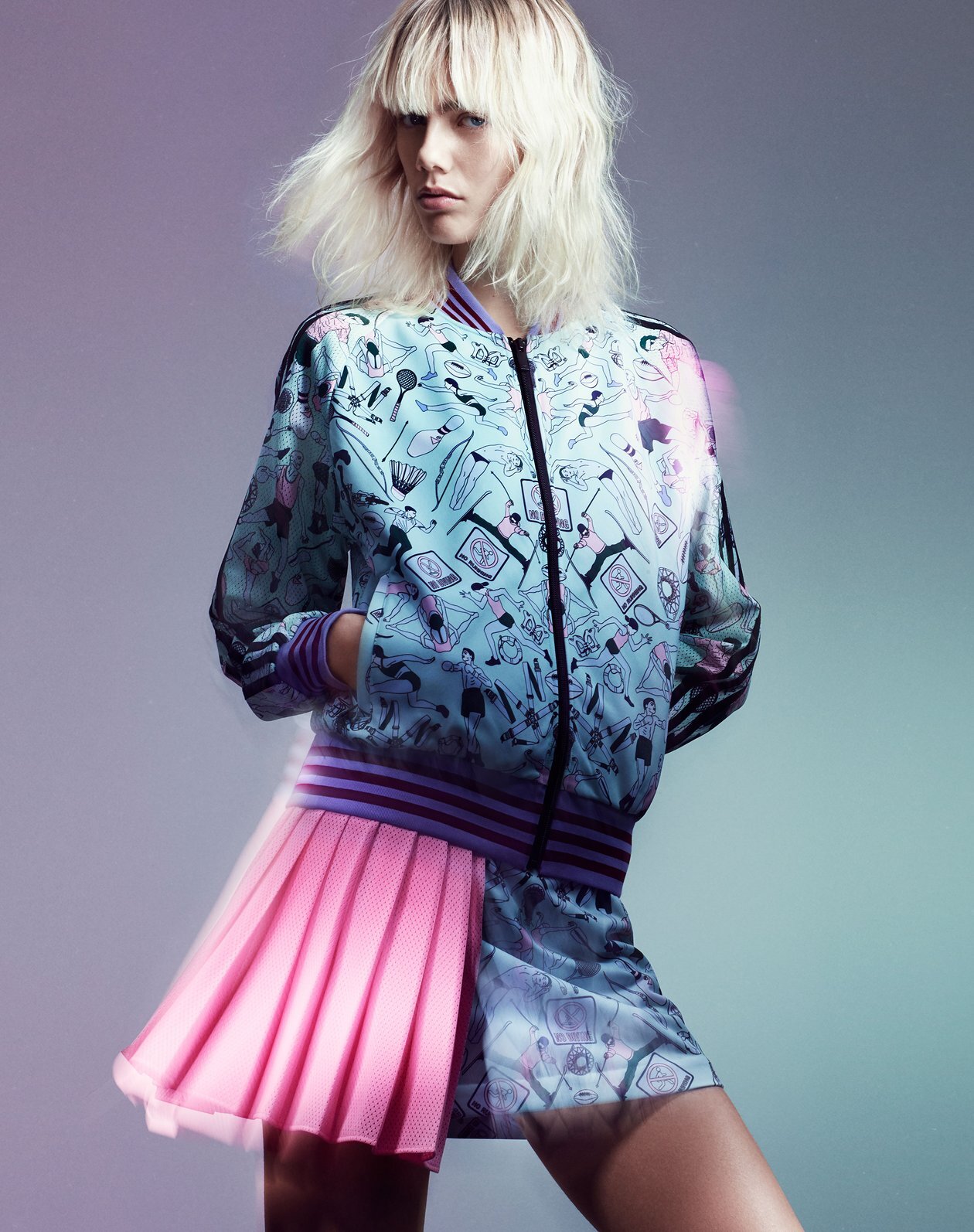 vogue.com
There are so many ways you can incorporate sportswear with any outfit from leggings, bomber jackets, sneakers and bras; just to name a few! There are really no age limits! Enjoy exercising, looking and feeling great at any age! Make the most of the time you have to really focus on being the best version of yourself by training hard and looking good when doing so!!
Will you be trying out the new sportsluxe trend in your city or will you take your sporting game to a whole new level with designer sportswear?