Originality and heartfelt creations are coming back and in full force. Chic Designs a jewellery line by none other than Yvette Jones has reset the standards by creating accessorize that are catering to the modern woman with long lasting style.
With designs inspired by her surroundings, the originality of Yvette's work is more than worthy of appreciation. We were lucky enough to have a chat with the head of the American based line.
Have you always wanted to be a jewellery designer-what lead you down this path?
No, it fell into my lap.  My niece used to work for a supplier of Swarovski crystals, rhinestones, Czech glass beads and more in Long Island, NY.  She dropped in my lap one day a bag of stones, crystals etc…and I asked her what am I going to do with this and she responded you're crafty, I know you will think of something.  So one day, I began working on a piece and have been hooked ever since.
How would you describe your jewellery to somebody who is new to your designs?
I would say it's work that is inspired by notions of beauty, spirituality and my environment. I approach my design aesthetic as an artist who explores her art-making process.  My designs are a reflection of my background in the fine arts realm. Uniting my vibrant stones with the infinite potential of line, colour, form, and pattern-creating versatile and dynamic jewellery that remains relevant beyond contemporary trends.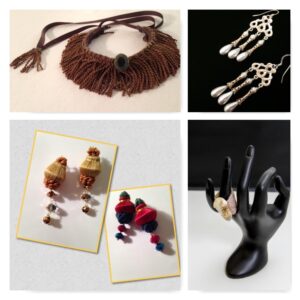 What's a typical day for a jewellery designer?
There is no typical day for a jewellery designer. Every day is different because of the type of work involved, you never know what will happen or what to expect so you keep an open mind and enjoy the work.
Where do you see your jewellery line in a few years' time?
Boutiques, fashion magazines and runway shows. I want it to become a jewellery line that is memorable for the contemporary woman.
You work with quite a variety of materials, which materials do enjoy working with and what is the usual process? 
First we sketch the designs then layout a range of materials. We then begin by designing a collection with trends, colour, texture and the season in mind. I then select the stones that would represent that drawing tying it all together.
What are you currently working on now?
At the present time I am working on metals mixed with precious and semi-precious stones
and layering necklaces.
Which designers have you looked to for inspiration during your studies and your career?
Chan Luu and Vanessa Mooney
In a rapidly growing industry what would you say are the biggest ups and downs of working in the industry?
Having sponsorship and having my piece's out there. It's a competitive market and getting my Jewellery out there is important to the brands growth. The more people know about it the better.
Of your designs which has been your favourite or holds the most sentimental value?
The Rose Quartz jewellery collection. It was inspired by my candlelight wedding.
What was the first piece you designed?
The first piece I designed was from the Rose Quartz jewellery collection
What made you decide to launch your own independent line?
Chic Designs by Yvette was launched after receiving great encouragement from numerous people who had fallen in love with my jewellery and had become my patrons.
What advise do you have for a designer looking to launch their own line?
In an industry as difficult as ours it's key to work hard and keep pushing.
What can we expect from your Pop with Colour Block collection?
We will have more pieces in the collection with very vibrant colours and versatility. Something bold that will cater for everyone.
Keep up to date with all chic designs by following them on Twitter, Facebook, Instagram, Pinterest and Youtube. check out the links below;
https://twitter.com/Chic_Designs
https://www.youtube.com/channel/UCSRGZ–Ddyk7LC0cdkDJy3Q
https://www.linkedin.com/in/yvette-jones-9b9b0070
https://www.facebook.com/Chic-Designs-by-Yvette-650692924944594/
https://www.pinterest.com/yrlj/
https://www.instagram.com/chicdesignsbyyvette/