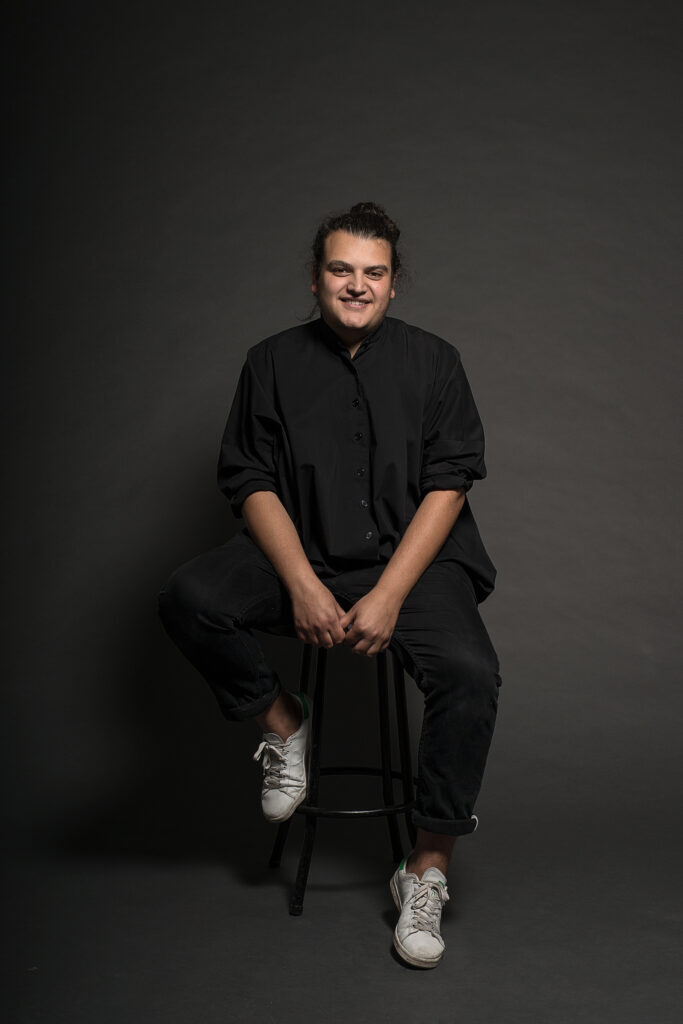 Creative Director & Founder, Roni Helou, started his own clothing collection in 2017 – Roni Helou. He incorporates sustainability into his designs by using organic fabrics, and including used and dead stocks of fabric in his work. The gorgeous collections include androgynous, eco-friendly and ready-to-wear pieces. Along with focusing on eco conscious production, Helou brings global issues regarding free-education, animals and the environment to light in the fashion industry. The Roni Helou SS20 Collection includes soft hues of pink, pastels, and structured silhouettes.
In an interview with Mess Magazine, Helou discussed his brand – Roni Helou, how sustainability is incorporated into his collections and designs, and the future of the fashion industry. Read Below.
Background
---
How would you describe your background and early career life?
My fashion journey started when I attended Creative Space Beirut, a progressive fashion design institution that offers students free education. Upon graduating, I was supported by the design incubator Starch Foundation for two seasons, which culminated in collection presentations at Fashion Forward Dubai. This led me to starting Roni Helou – my own ready-to-wear brand – in 2017. We presented our FW19 collection as one of the finalists in the International Fashion Showcase in London and participated in both Paris and London Fashion Weeks throughout the years. We have also won the ready-to-wear prize in the first edition of Fashion Trust Arabia.
What is the inspiration behind your brand and designs?
Many words come to mind in regards to what inspires my brand and designs: Timelessness Playfulness Elegance Jazz Thought-provocation Activism
How would you describe your personal style and how is it reflected in your designs?
My personal style is comfortable and simple, and it consists mainly of my father's vintage pieces. My brand revolves around sourcing old and dead stocks of fabric, and I apply this way of thinking onto my personal wardrobe too.
Sustainability & Collection
---
What does sustainability mean to you?
Sustainability represents any action taken that considers and positively affects the well-being of other humans, animals and the planet. Although some might argue that the term is loosely used nowadays, I do not think that it is a bad thing because I believe that the concept of sustainability should become so mainstream to the point where it transforms into the new norm.
How do you practice sustainability at Roni Helou?
I aim to apply ethical practices of sustainability in all facets of the brand. We upcycle vintage and old stocks to avoid the risk of fabrics being burnt or thrown in landfills; we support our local community by producing with artisans and tailors from all over the country; we create modular clothing that can be worn in different ways to expand the lifespan of the piece; we produce small quantities and use organic techniques in the making of the clothes; and finally we use our platform for activism, shedding light on issues regarding people, animals and the environment.
Will you be participating in London Fashion Week in June 2020? If so, are you looking forward to presenting your collection virtually?
I am still trying to understand the situation we are globally facing and see what is the best way for me to present the brand. So for now I am exploring all possible options before settling to fashion weeks.
What is the process behind choosing the designs for each of your collections?
I am usually guided by two main things: a cause I am passionate about and the fabrics at my disposal. The mix of both helps me visualize the collection and after that I produce a quick garment that I tweak and alter directly on a person to make sure the piece is wearable and conveying a certain attitude.
Your connection to Fashion Revolution?
I attended courses and workshops hosted by Fashion Open Studio and Fashion Revolution that helped expand my knowledge on ethical practices and the future of the fashion industry. Getting the chance to listen to prominent people from the industry is so informative and humbling all at once!
Impact of Covid-19
---
How have you been affected by the current, Covid-19 pandemic?
Thankfully I am well. The brand has faced some obstacles but we see this as an opportunity to spread our message furthermore on our digital platforms.
What have you been doing to stay positive during this time?
I am focusing my energy on new ideas for the brand, possibly a basics line based on fabrics left over from my collections, but this is still a work in progress. For the time being, my cats are making sure I keep positive and sane!
How do you think Covid-19 will impact the fashion industry?
The pandemic opened everyone's eyes on how the entire world has been sadly functioning and I hope that this realization will affect all industries and policies. We need a new order and system because the one we have been adopting thus far has become obsolete.
"I would like to see the entire industry take things slower, for people to produce only when it is necessary and for them to understand that only by honoring the sources given to us by nature that we can truly live respectfully and with no regrets."

– Roni Helou, Creative Director & Founder