Kick started by Karl Lagerfeld, here are the best make-up trends of S/S'14. Who says you have to choose between eyes and lips? This season, make like rule-breaker Lagerfeld and free your inner rebellious beauty queen today, ready to run riot with red lipstick and gilded eyelids in tow.
Let your eyes do the talking with a bold, on-trend flash of acid colour. Making a statement at this season's Marc Jacob's catwalk show, blue eyelids were all the rage. Ensure your eyes take centre-stage by applying a contrasting shade; just be sure to use a primer on your lids first to avoid that loathed crease, and layer your eye shadow to create a pretty dimension when the disco-ball light hits it.
White eyelids were spotted everywhere this season, with various fashion houses producing different takes on this trend from Jenny Packham to Tibi. The ethereal vibe this look gives can be recreated using Vaseline, white eyeliner and iridescent pale eye shadows. Following your lash line, place white eyeliner from the inner-corners of your lids, smoothing out into wing-like shapes towards the end, then, starting again at the inner eyelid, pile on your white eye shadow, adding a hint of Vaseline to create a fresh and dewy glimmer.
Featured at the Rag and Bone and Prabal Gurung shows this season was the bright lip. With neon and coral tones of bright colour, lips were practically popping from models' heads. Wear yours with minimal eye makeup this summer to make sure your lips pack a punch. Prime with Vaseline before and after to avoid chapped lips (Vaseline is fast becoming a makeup bag staple here).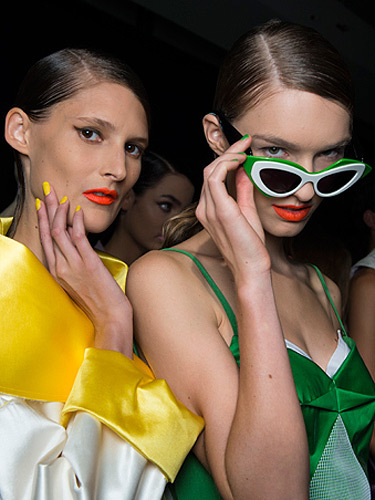 Have you heard of the new graphic eyeliner trend taking over from our much-loved wing? Well now you have! Seen at this season's Roksanda and Anya Hindmarch shows. I came across this space-age, angular shaped, eyeliner trend last October and, having grand plans for its future prospects, decided to give this look an airing for a night out. Creating the shape was easy, making both eyeliner shapes match and stay put was the hard part. Try eyeliner stencils to recreate yours, and choose a gel with strong staying power as smearing this look is, (as mentioned),very easily done when you're up in the club.