We caught up with Brighton blogger Saffy Needham- more commonly known as Sapphire Says – to talk style, fashion and the future of blogging.
What I love about your style is there's a real sense of normality. Not in a 'norm-core' way, but just that your wardrobe seems to be a real reflection of your personality. Has it always been like that?
I wasn't particularly fashionable when I was younger. I used to have one cerise pink strand in my hair and I wore striped sweat bands! I definitely feel like I found myself by the time I hit college. The more I bought clothes, the more I found what worked for me, "like this looks good!" Last winter I saw a lot of bloggers posting OOTD and they'd be wearing dresses or skirts without tights and I'm just thinking "its way too cold for that!" I'm wearing tights today and it's April, you know?
Who, if anyone, influences your style?
I love Kylie Jenner but back in her teal hair days where she really channelled that whole festival look. Now she's like a mini Kim-K.
 You are generation social media. Does this influence your style more than the runway or editorials?
Definitely. Especially platforms such as Pinterest or Tumblr. I always see people on the 'discover' page on Instagram and I'm like "oh, I like that!" That's what made me want to dye my hair. I'd seen Sky Ferreira around but then I found this picture of a girl on Instagram with this amazing bleached hair and just knew I had to do it!
 When you're not in front of the camera, what's your go-to look?
Everything you see on the blog is what I wear. Usually I take my pictures before or after college so it really is an online diary of my every day look.
Who are your favourite designers/labels?
I have to be honest and say I'm not obsessed with brands as such. I wear a lot of high street and I think that's just because it's more me. I love Urban Outfitters and Topshop, but I do like a find so I wouldn't think twice about checking out a charity shop or Depop. I actually really like Depop because you can find great vintage pieces on there as well as small, unknown brands.
Having said that a classic Burberry trench would be an absolute dream! And Jeffrey Campbell designs the most incredible shoes.
 What's the one item you can't live without?
Denim, because I wear so much of it!
You recently shot the runaway at LFW. What was that like?
I was there for the weekend, armed with my press pass because I was doing some shooting and I just had a great time. I shot a lot of the trend collection, which was fun because it was all the things that I would most likely wear. My favourite was this beautiful pink and white dress by Emilia Wickstead.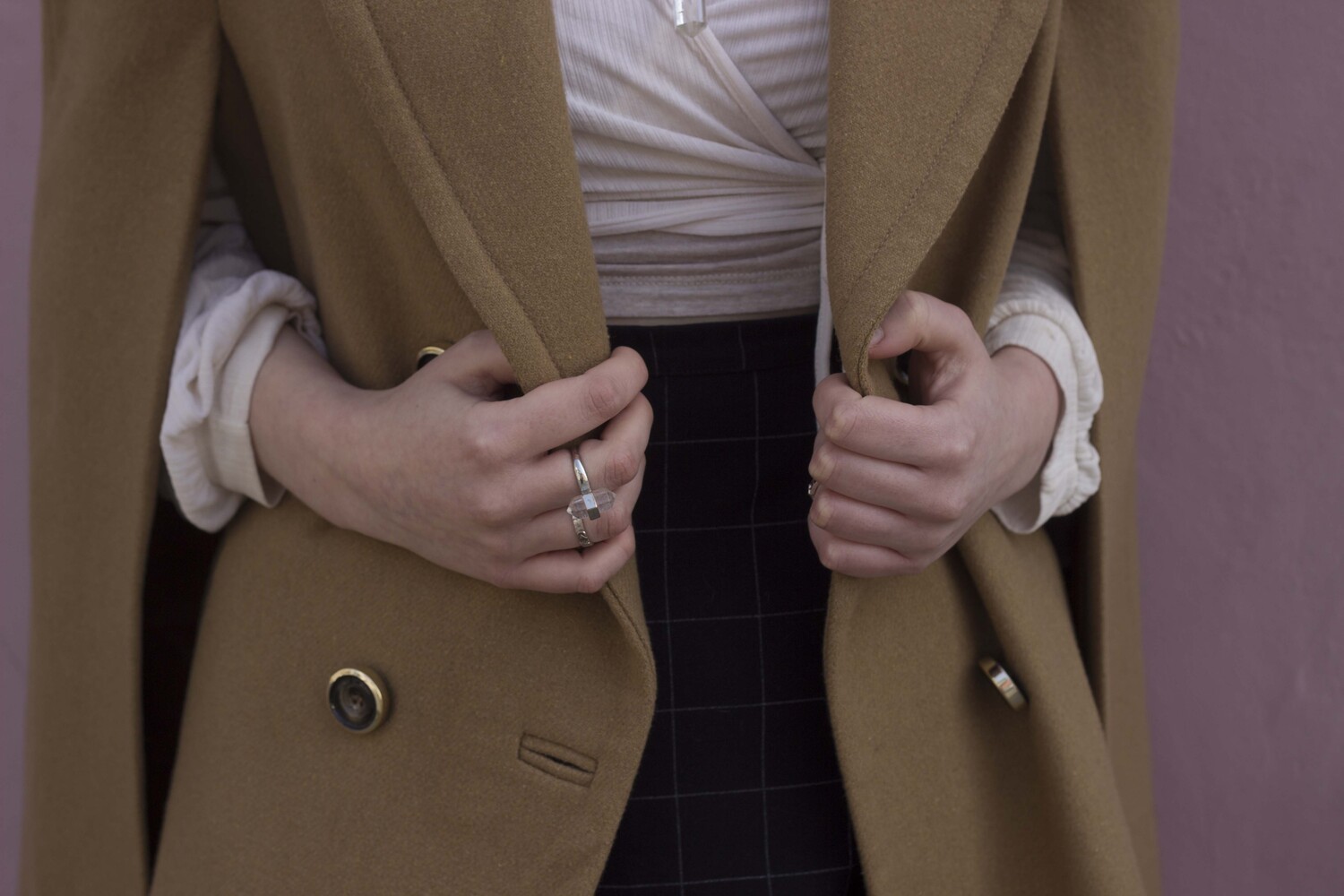 Brighton has become your official backdrop for blog posts. What is it about the city that makes it so perfect to shoot?
I love Brighton because it's such a great city for fashion. Everyone is different and that is what makes it so beautiful. I love discovering new places and shooting them in my blog and aesthetically, I just adore the white walls and coloured doors along the houses in the lanes.
So what made you start blogging?
I started a Youtube channel back in 2012 and dabbled a little with vglogging but a friend of mine gave me the idea to start blogging. It's such an enjoyable process for me and so it just became a great way for me to express my love of fashion.
Where do you see the future of blogging?
I think it's so much harder to make a blog successful nowadays because there are so many people out there doing the same thing as you. Anything creative tends to be competitive but I don't think that should deter anyone! I don't blog as much as I should and I still somehow get approached by brands who want me to advertise them, but I've chosen not to. As cheesy as it sounds, I'm a genuine and honest person and blogging is an extension of that. I want my blog to be organic, something that is a product of me and not constant promotion. That isn't to say I don't want my blog to grow and I guess there's always going to be an element of advertising in that, but I only want to say 'yes' to brands that speak to me and my readers.
And lastly, describe your perfect day.
It has to be sunny because I instantly feel happier when the sun is shining through my window. I'd need a really great breakfast like a full English. Can you believe I've never been abroad, so I'd love to go to somewhere like Tokyo or LA?
Photography: Courtney Connor